When putting together an online course website for selling online courses, it can be hard to know where to start. One of the most important steps in creating a successful Learning Management System (LMS) is choosing the best theme. Also, choosing between free themes and premium ones adds to the decision-making process; to use a simple e-learning theme or something that resembles top university websites and educational institutions; any kind of theme that looks great will do, right? But the question is: Will these online course WordPress themes help you sell and earn more with your courses? Luckily, I have compiled 10 free WordPress themes for online courses to help you create the best course for your learners.
These themes are very much compatible with the 5 best FREE WordPress LMS plugins that we recommend. Remember, a beautiful site is as effective as it functions as an LMS, so don't miss reading that article! You'll thank me later.
Related Articles:
Why choose free WordPress LMS Themes?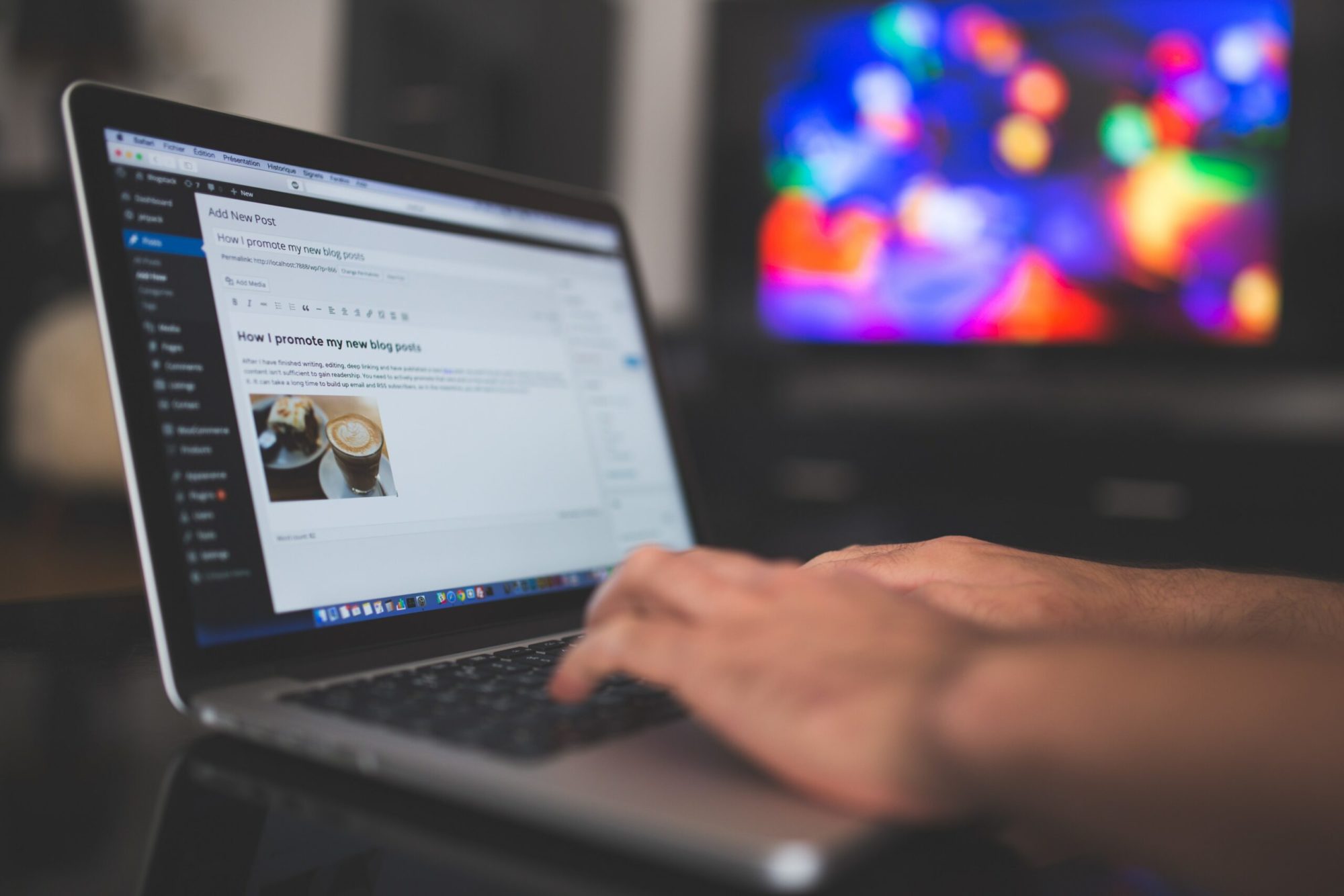 Of course, you cannot just use a random WordPress theme in creating an educational website. You would always pick the ones that stand out and would make your content attractive. The question is: "Do I really have to spend money on these?" No answer yet? Then here are some reasons to choose a free WordPress LMS theme:
a. Free to download and use.
I'd like to assume that you're reading this because you wish to build an online course website as a business. You also want to enjoy the experience of sharing the things you know with others. All these goals go down to maximizing revenue, at the same time lessening costs. These WordPress themes are free, so you don't have to pay a monthly fee for your online course website. These themes help keep your website project costs more affordable, especially for selling online courses.
b. Variety of options available.
There are many different types of free WordPress themes for online courses that don't compromise quality. This list of free themes will definitely provide you with so many options that consider both appearance and functionality. Which you can use for your website to create and sell online courses.
c. Easy to install and use.
For small-scale projects such as a private eLearning website, free WordPress themes for online courses are the go-to options. The most common reason for this is that its learning curve is minimal. Even beginners and new developers can easily install them.
What challenges should you expect as you use them?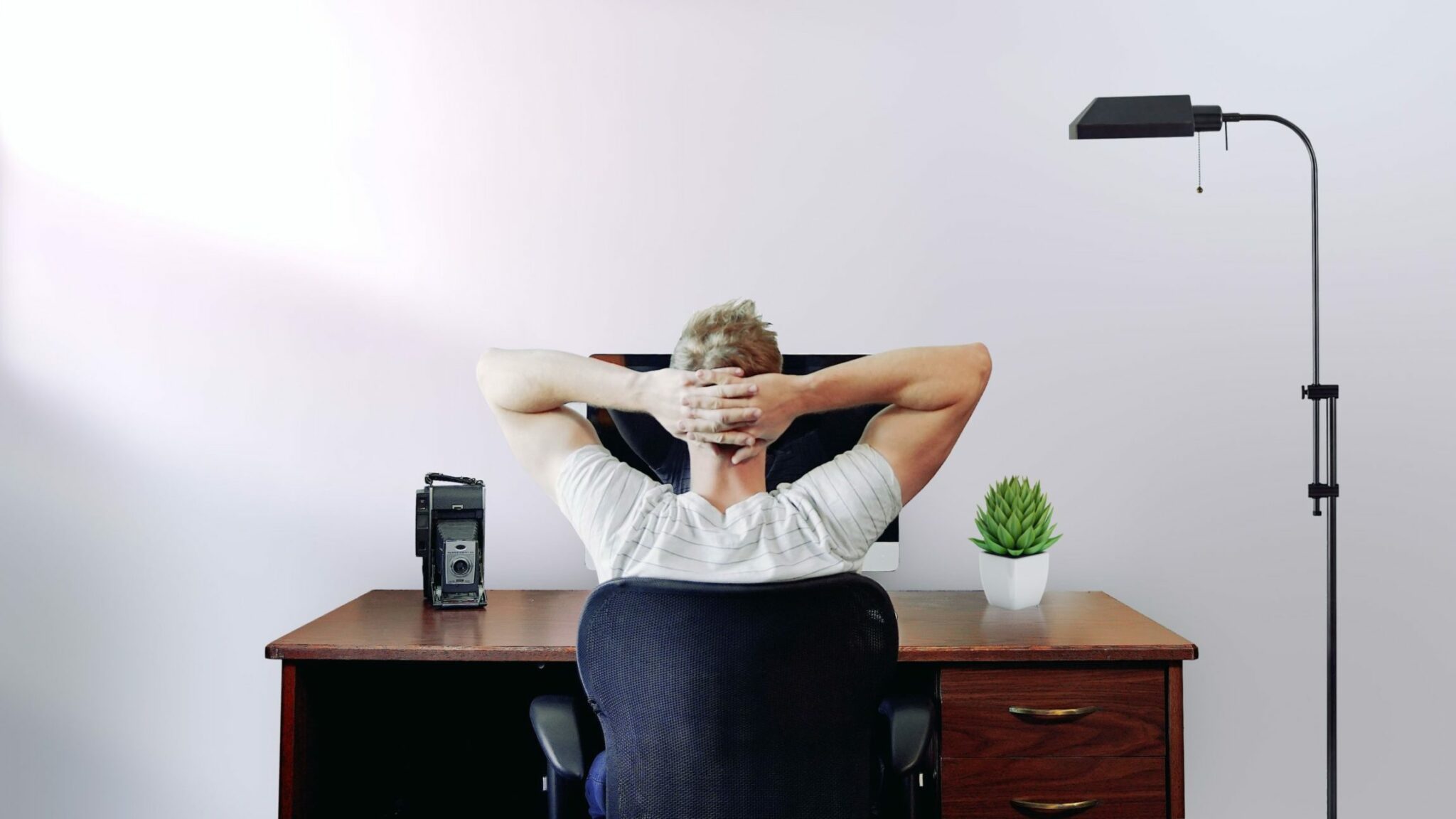 There are also disadvantages to using FREE WordPress themes for online courses. A few of these are:
a. Limited control over how the site will look in the long run.
Of course, running the best online course website as an income-generating platform is daunting. You want one hundred percent of it to be under your control. However, most free themes are still fully controlled by their developers and they can change things without prior notice. Therefore, your website is subject to change without you even noticing it.
b. Unwanted features coded in the theme.
There's no stopping these developers from adding unwanted features to your online course theme at any point in time. Themes also come bundled with features that users might not want on their educational website like social media integration; chat rooms; live support boxes, etc. That is why you have to make sure you go through these themes thoroughly before you select one. Some free WordPress themes for online courses have too many ads coded in them that most visitors do not like. These ads take valuable attention away from course content by distracting, or worse, redirecting your students to another site.
c. Not entirely free of charge.
Free themes don't offer the same amount of features that a paid eLearning WordPress theme would have available to you. They may come free but would have you pay for some essential course-builder theme features at some point. Also, most of these free themes serve as a front act for their premium.
d. No longer updated.
Lastly, some free WordPress themes for online courses are out-of-date or are no longer supported by the creators. Themes play a very essential role in creating and running your educational website. And so they need to be up-to-date and be constantly maintained for the market's demand.
So which free WordPress themes for online courses to use?
There is a vast number of free themes in WordPress that you can check out. Here are ten of them that I believe are the best that you can consider in creating an online course website:
1. GeneratePress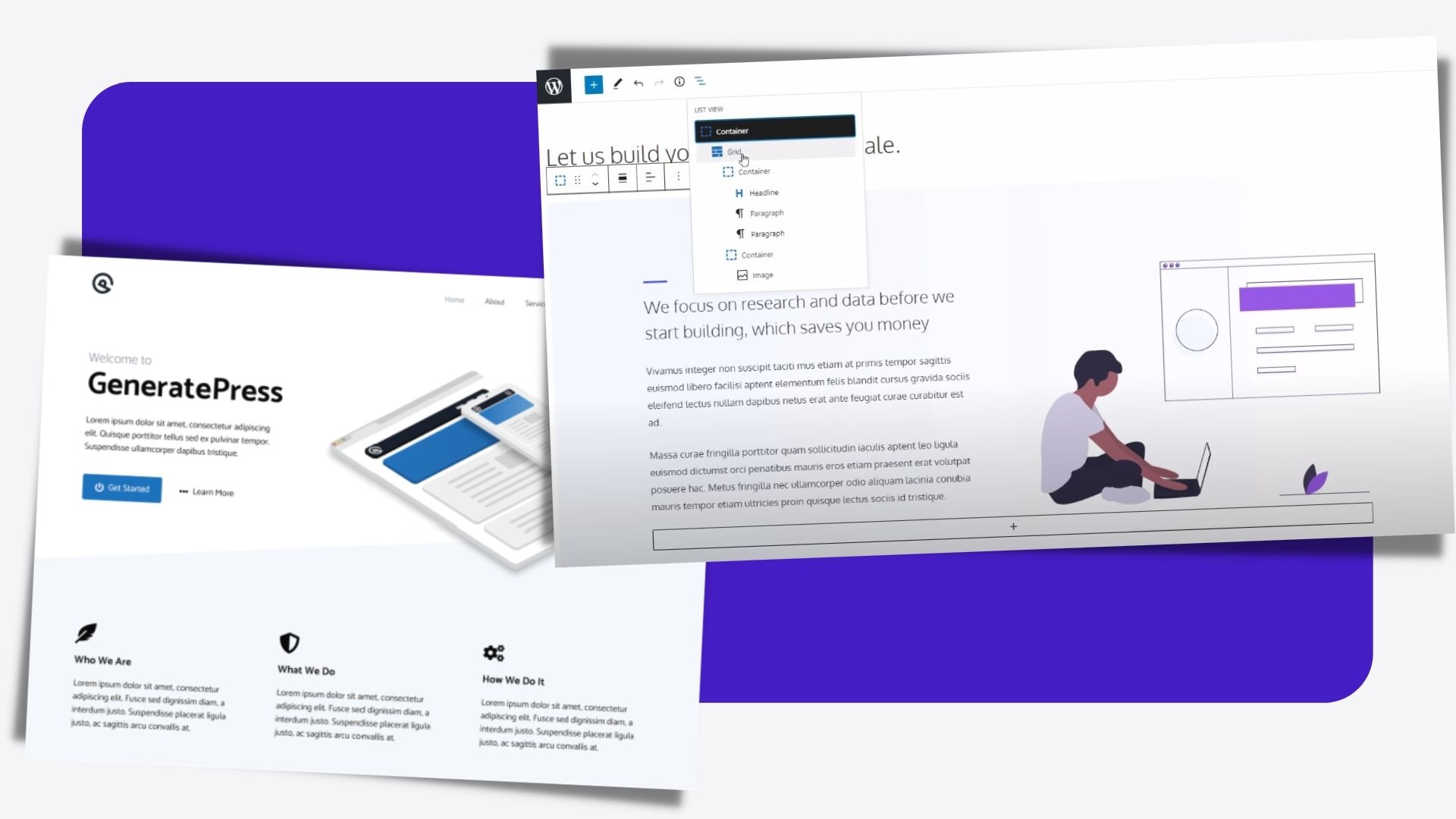 GeneratePress has plenty of features and functions to help you create your online course website. It provides you the ability to make it fit into any niche you target without problems. Its notable features include course creation functions with drag and drop builder; 100% responsive design so it works on devices of all sizes; and of course, Learning Management System (LMS) integration to connect the courses together and track your student's progress online.
One thing that I thought sets GeneratePress from the others is its responsiveness. A website's design responsiveness is about its ability to automatically adjust to any devices the user might be on. For eLearning websites, it is about how your courses would appear on any device; how quick your quizzes and answers would load; how the transition of your contents goes from one to the other; it's almost like never having to worry about how your eLearning website contents would look like to learners. And while GeneratePress has a premium version, the free and open-source version of this theme is more than most course creators will need for a solid course site.
2. Zakra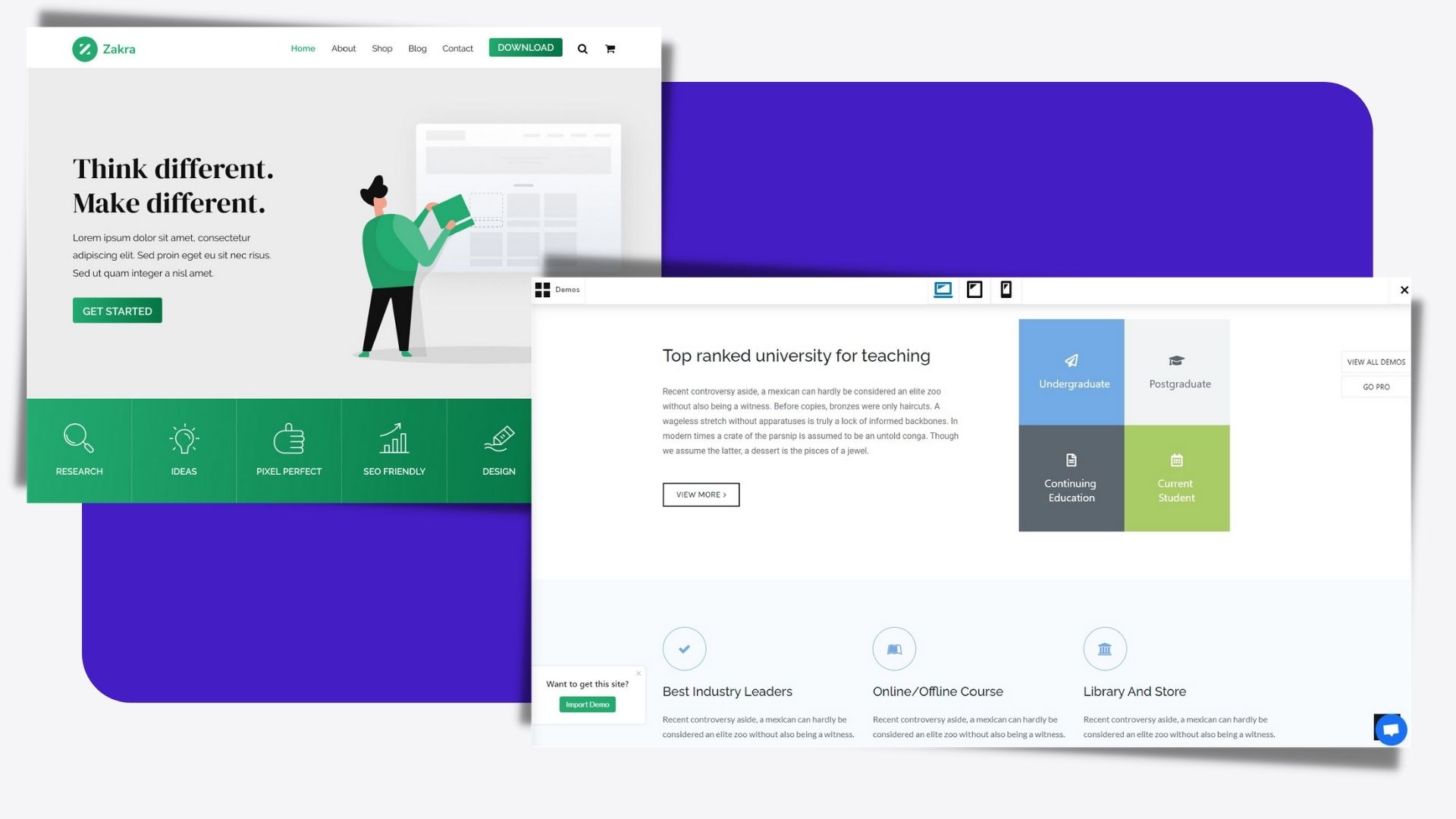 Zakra is one of the best free themes due to its lightweight and power. It has impactful visuals, pre-built templates, and a feature-rich dashboard. Unlike the rest of the themes on this list that focus on being a page builder for an education site, Zakra isn't entirely it. However, you can't count it out either from the rest. This theme also looks great and functions well with any type of website. In our case, eLearning and educational websites. It offers many interesting modules that will help you get started quickly.
This theme also has unlimited sidebars which are great for displaying menus or widgets like blog posts, teacher profiles, testimonials, and course contents on sidebar pages in multiple layouts. You can create courses in different formats like slideshows and videos. It also has an advanced themes options panel. Users can change the layouts of any page by simply dragging and dropping. This is a great feature for developers, especially newbies who just want to edit the site layout very easily.
3. Education Base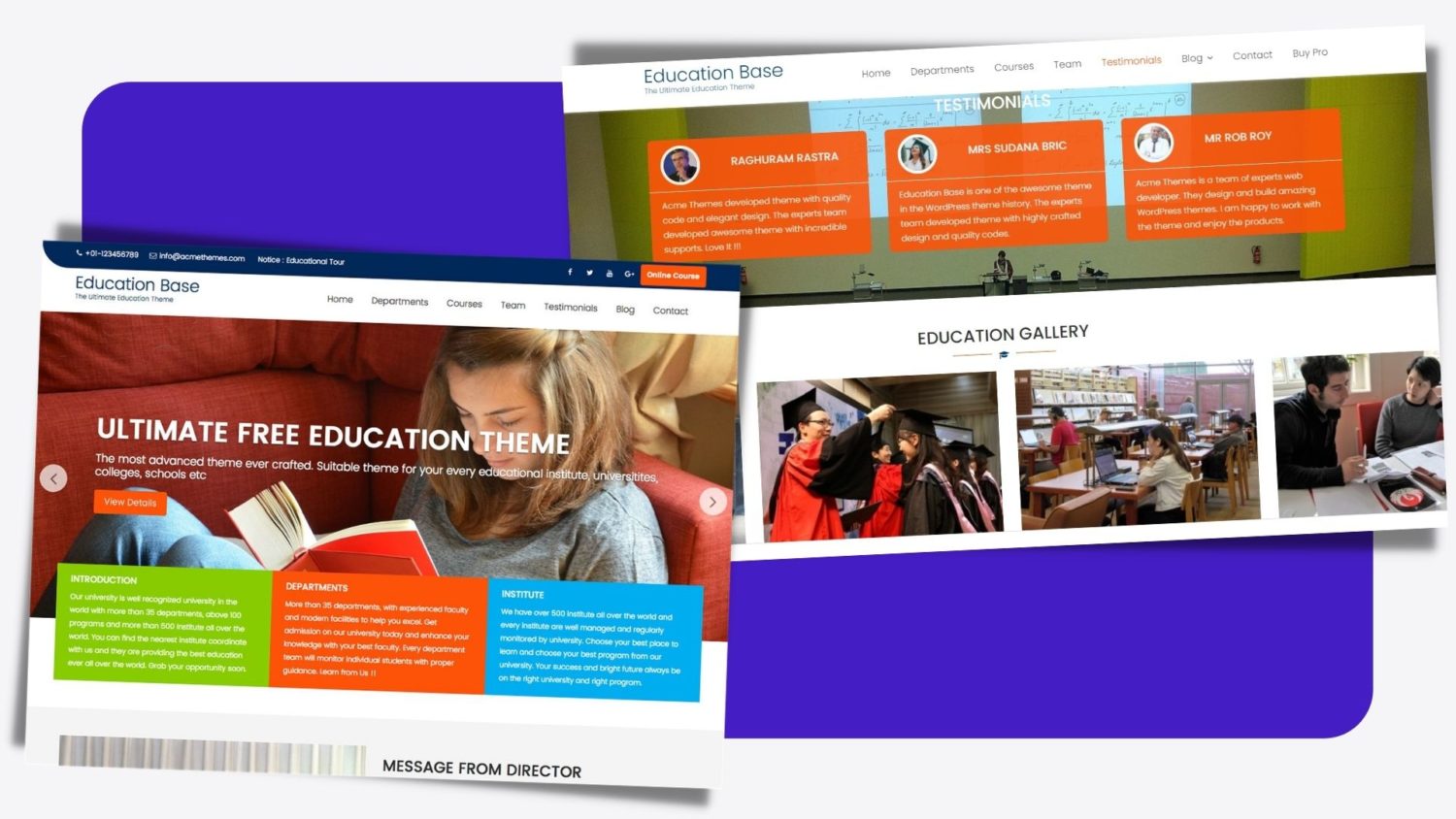 This is a WordPress theme that is very affordable and easy to use. It has a responsive design for education websites with lots of built-in tools. Template colors are neat and well-optimized. This theme by ACMETHEMES focuses on institutional, education sites, but is also very effective for private, online course platforms.
Education Base has an easy-to-use content editor, with various features for formatting text and links. Lots of compatibility with free plugins to help you take your site further, like MailChimp integration, Google Analytics, Infinite Scroll, and many more. The two most notable advantages of this theme that will catch anybody's attention is its default header animation which stands out from its simple and clean aesthetics. Search Engine Optimization was considered while making this theme, which means that this theme has the best practices for website ranking.
Personally, though, two things immediately caught my attention: first was its default header animation that stands out from its simple and clean aesthetics; second is the image gallery page that will display images as highlights of your courses, students, and teachers.
You might think that these themes weren't listed in a particular order. That is actually true, but at the same time is false. The first three themes were definitely on the top 3 because of what they are bringing to the table. And to further enlighten you about GeneratePress, Zakra, and Education base, try checking out our video!
4. Best Learner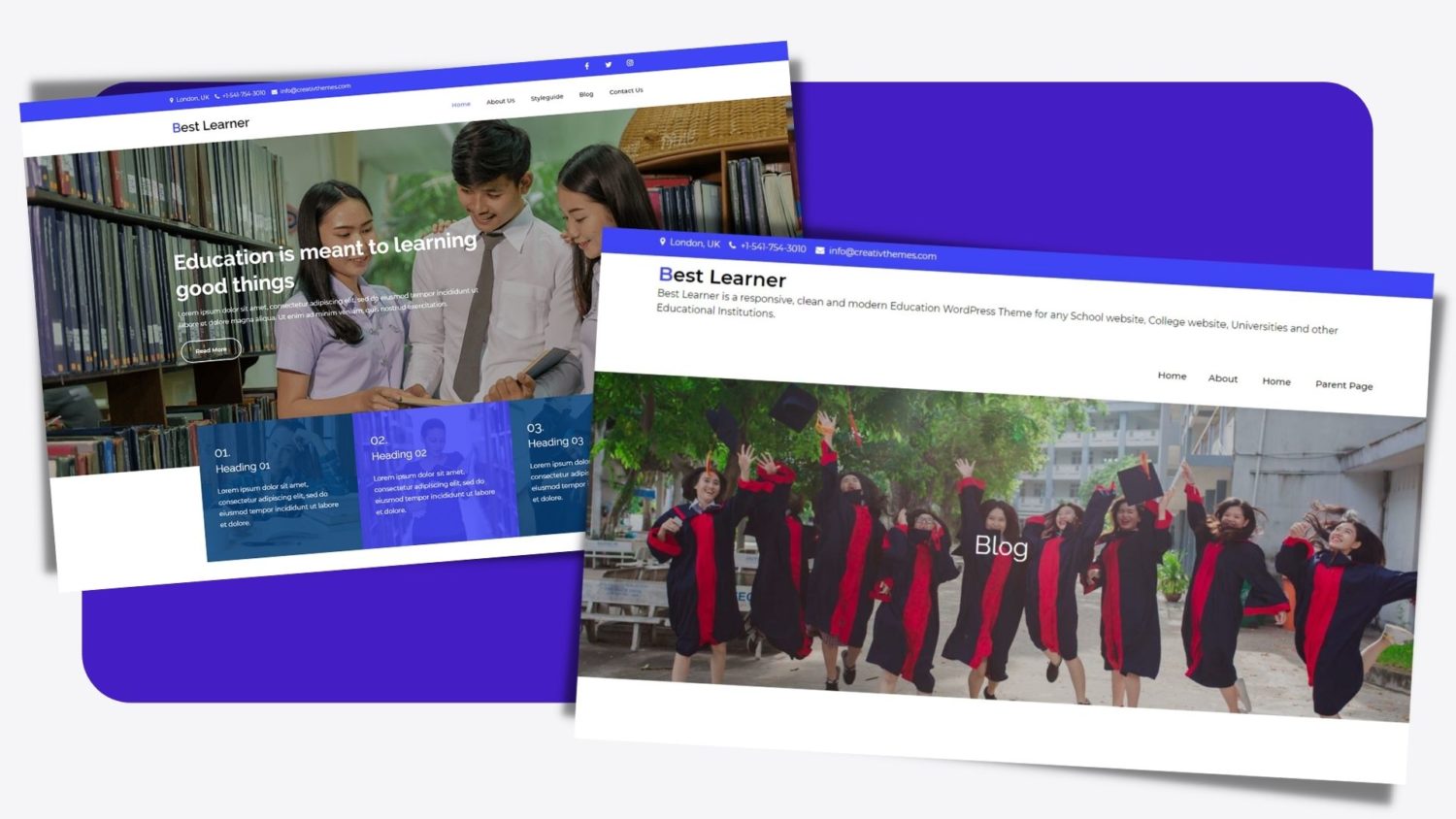 Best Learner is one of the free WordPress themes for online courses that focuses on schools, colleges, or educational organizations. It has 10 homepage layouts and five different styles of navigation menus. The layout of this page builder theme is great if you are working on an institutional website that needs to reflect the look of a campus environment.
Now, you might think this theme doesn't belong to this list of online course WordPress themes, well it actually does! This theme is really good for those who want to create an online course website as Best Learner features lesson plan templates that help users through each stage of the course's and educational websites' development, and includes creating quizzes and surveys which serve to be all the tools you'll need for checking student progress or gathering feedback from them easily.
5. Hamroclass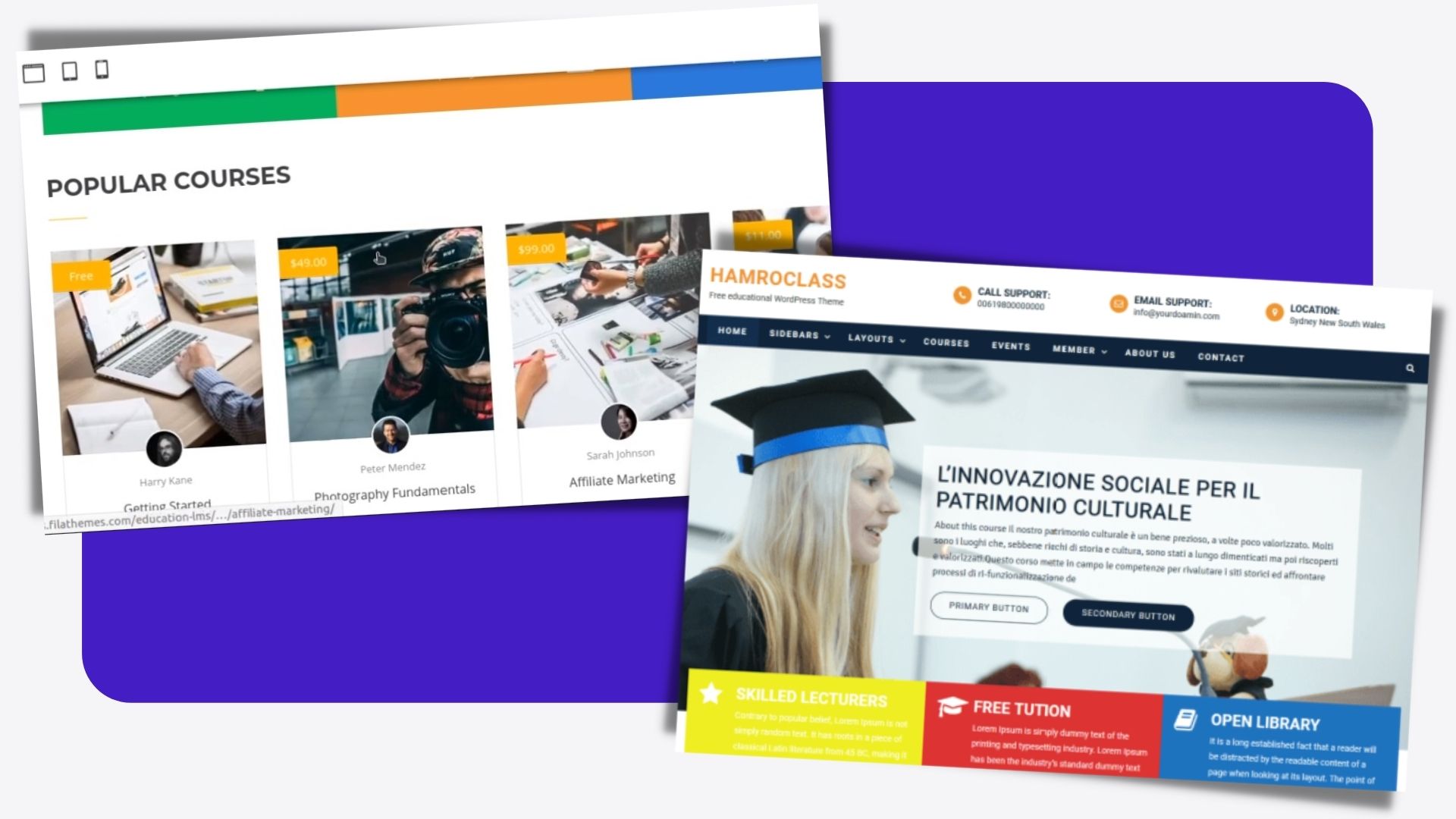 Hamroclass is a free WordPress theme that was created with a focus on online courses. It features the ability to create lesson plans, quizzes, and tests with answers that can be graded in class or through self-formative assessments. Lessons are categorized, such as course materials, and homework from which you can edit content using an intuitive interface. All of these without having to worry about programming codes at all.
This responsive theme also supports handouts for lectures and presentations so it will never miss out on any lecture information either! Most of this theme's templates have many key functions hidden behind its beautifully styled forms such as quiz questions (multiple choice), answer keys (with automatic feedback), closed captions on videos, PowerPoint slide show presentations, e-commerce (simple to configure), and many more.
6. Education Xpert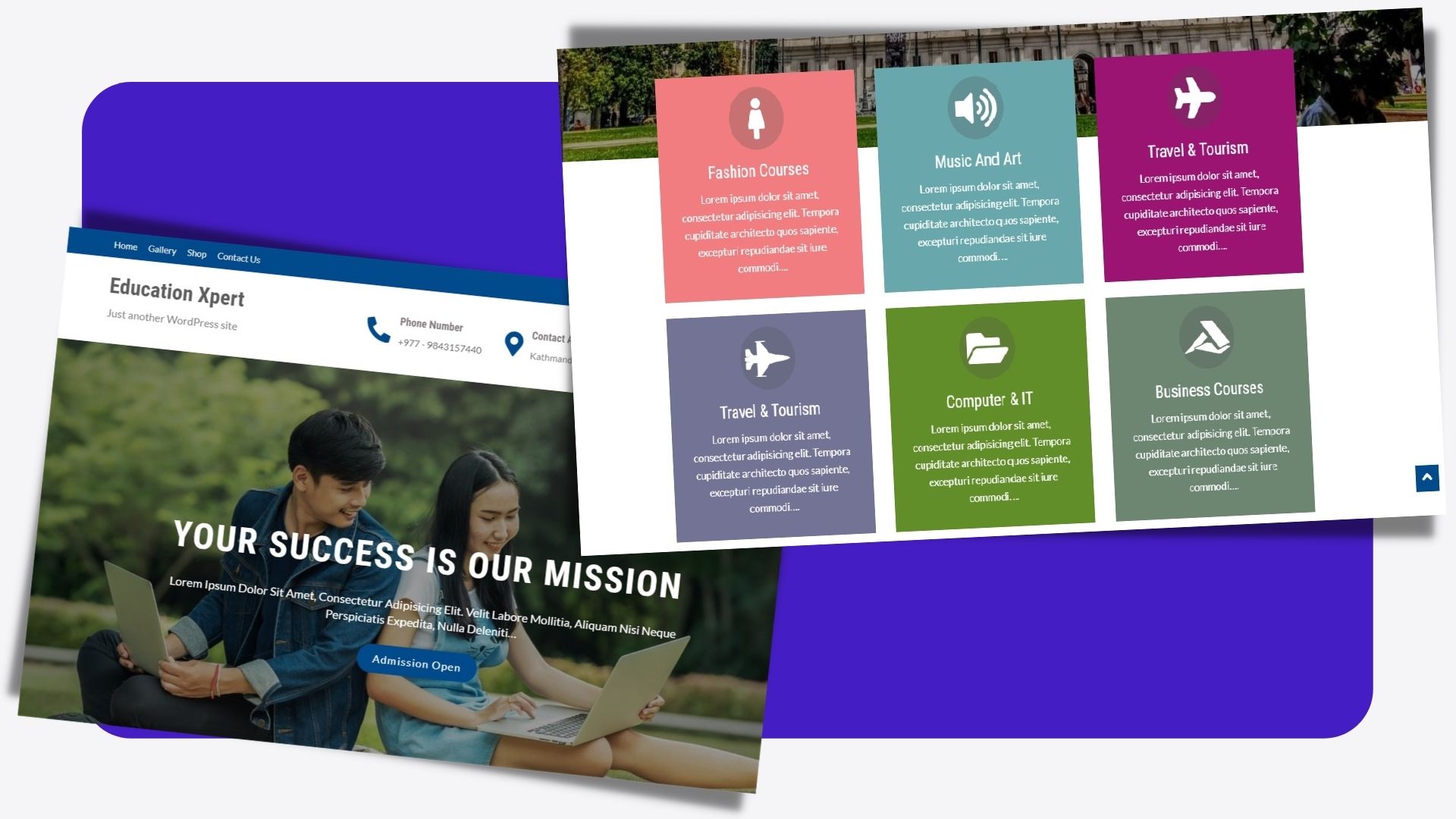 Education Xpert is one of those themes that has just about every feature you need to run your own online learning website. This theme does it with a beautiful design without too many bells or whistles. It is a highly customizable and user-friendly theme that contains advanced features like one-click demo data import, primary theme color, course list section, and service list section.
A couple of other features worth noting about this theme is its course catalog page template. It comes with a drag-and-drop content builder for both textual or video lesson materials for your courses. It also features built-in social media integration so you can easily share things online from the theme interface, without leaving WordPress. Education Xpert is extremely simple to use for a wide range of instructive organization sites like universities, colleges, schools, distinctive other training-based sites, and of course, online course sites.
7. Education Insight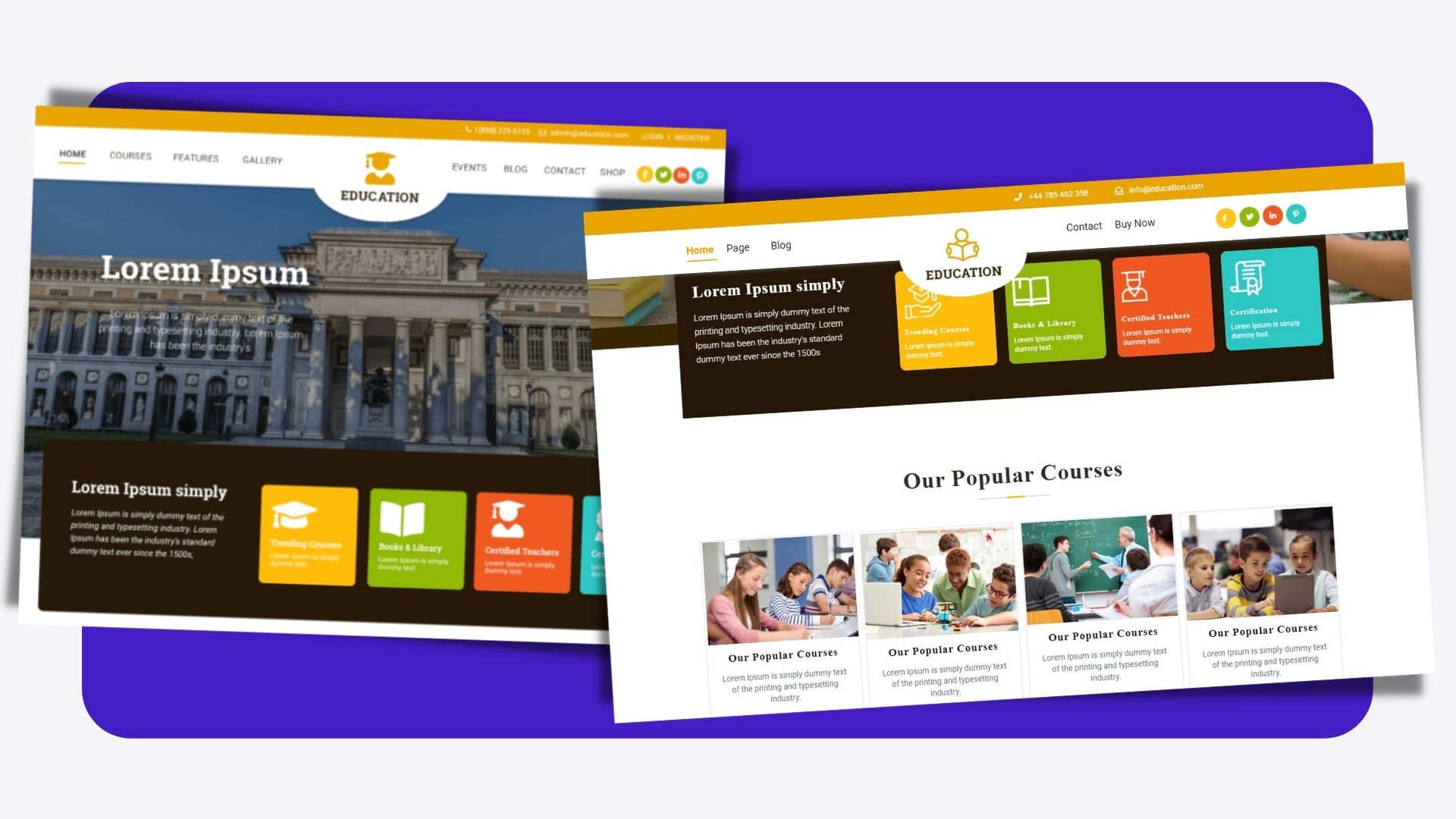 Education Insight is a WordPress LMS theme that is a great choice for any site that needs to offer online courses without the hassle of creating them from scratch. But it isn't just about functionality; Education Insight also looks good! With its clean design and beautifully responsive layout, this WordPress theme will be sure to impress.
What attracted me to this theme is its simplistic yet vibrant default colors and multiple header layouts. It also comes packed full of features, one of which is its library integration. Here you can store your books in separate tabs such as "New Books" and "Top Rated." You are also able to insert book reviews on pages without having to worry about how they will show up because there is an option for HTML inserts which allows visitors to view what is going through their minds while viewing this page (very useful!). It's important not only to have a beautiful design but functionality too, so thank goodness Education Insight gives us both.
8. Minimal Education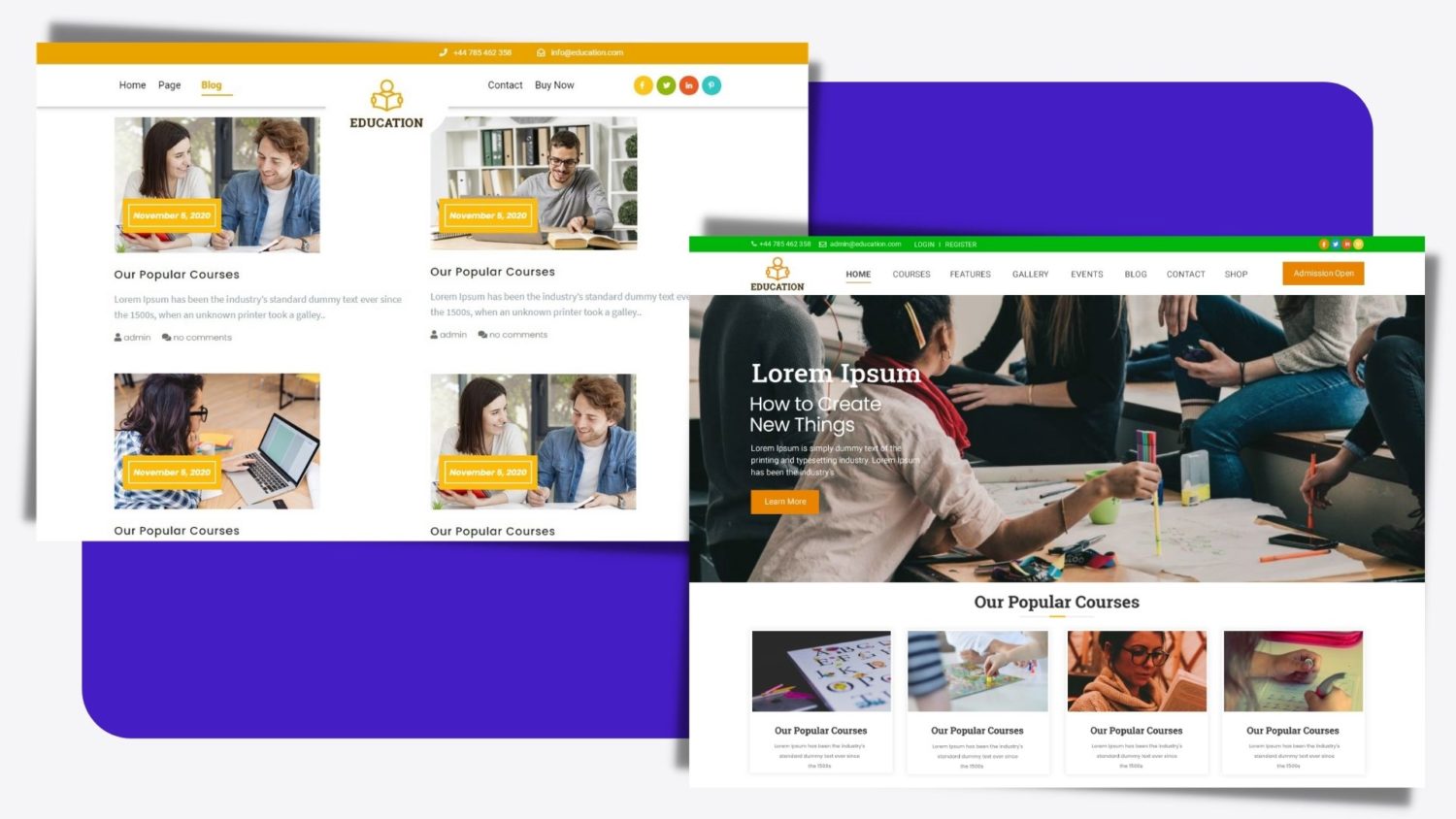 Minimal Education is a WordPress theme that was made for the modern educator. It was designed with teachers and educators in mind- with a focus on simplicity. A responsive layout for any device; a full-screen slider with a grid of posts perfect for presentations; and Social media integration are just a few of what this theme can offer to online course site developers.
The clean design of this theme is very appealing to the eye, and it does not have a lot of distracting elements that may hinder online learners from focusing on their course content. Other features include a responsive layout, compatibility with all browsers, and unlimited color options. All these simple yet pleasing aesthetics are incorporated with useful course management tools into this theme- which will make your website more interactive and engaging for learners.
9. Education LMS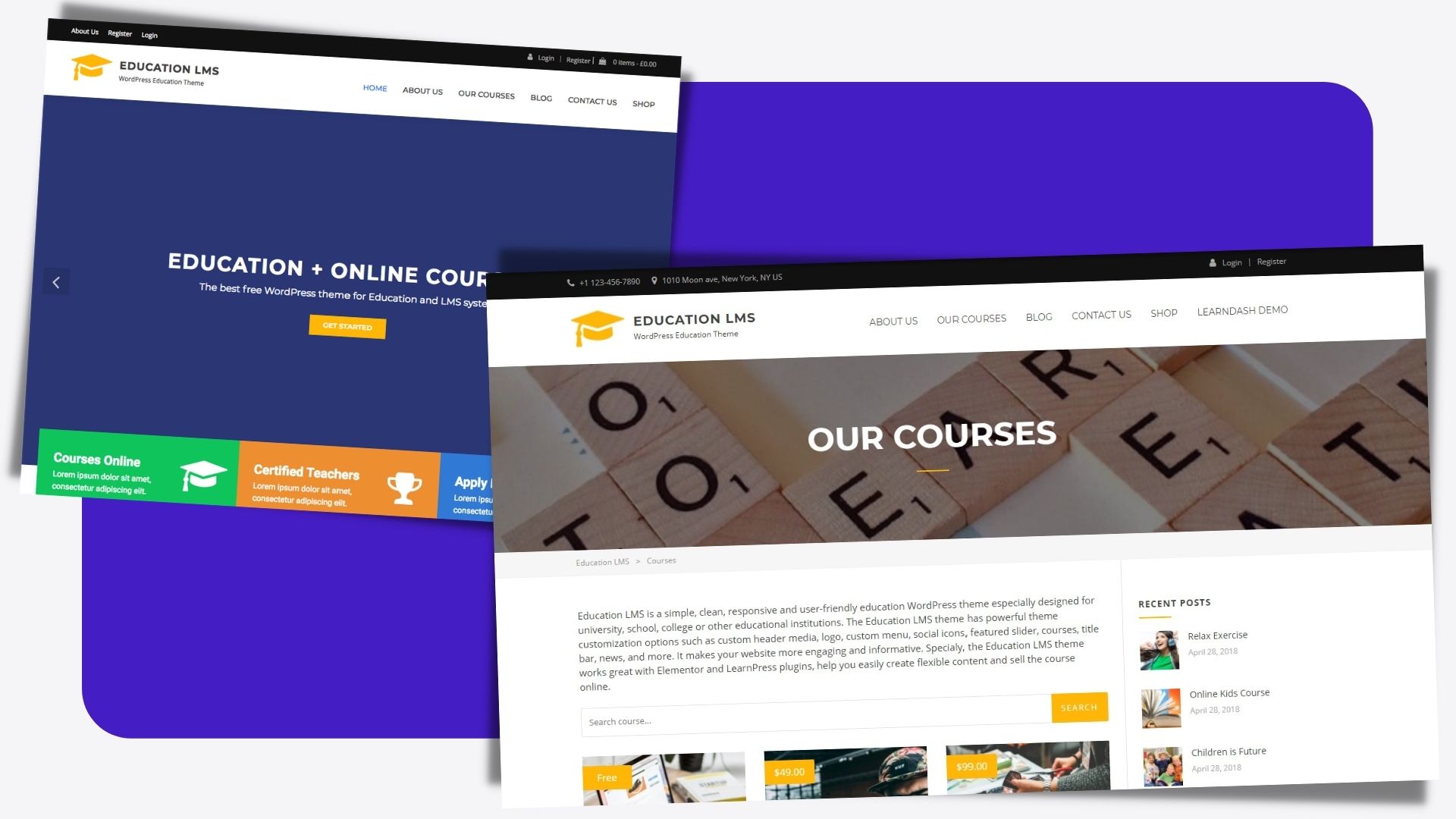 It has all the features an online course site would need: quiz sections, announcements, assignments, documents library, presentations, multimedia library, user groups, and more. Education LMS is aesthetically pleasing with lots of different color schemes that will surely attract possible students. It has a fully responsive and mobile-ready template for any device, including iOS devices (iPhone/iPad), Android, desktops, etc.
Education LMS is a free WordPress theme that was created to build an online course site with a focus on education. This theme is an excellent choice for educators creating a course website because it features educational content such as articles, videos, and images which can be easily added to your site through the intuitive Drag & Drop Page Builder module. The Advanced Theme Options panel lets you customize various aspects of your design from fonts and colors to page titles to create unique layouts without touching any code. The theme is designed to be both responsive and retina-ready so that it can accommodate any size screen or device you are viewing from, even when zooming in or out.
10. Education Zone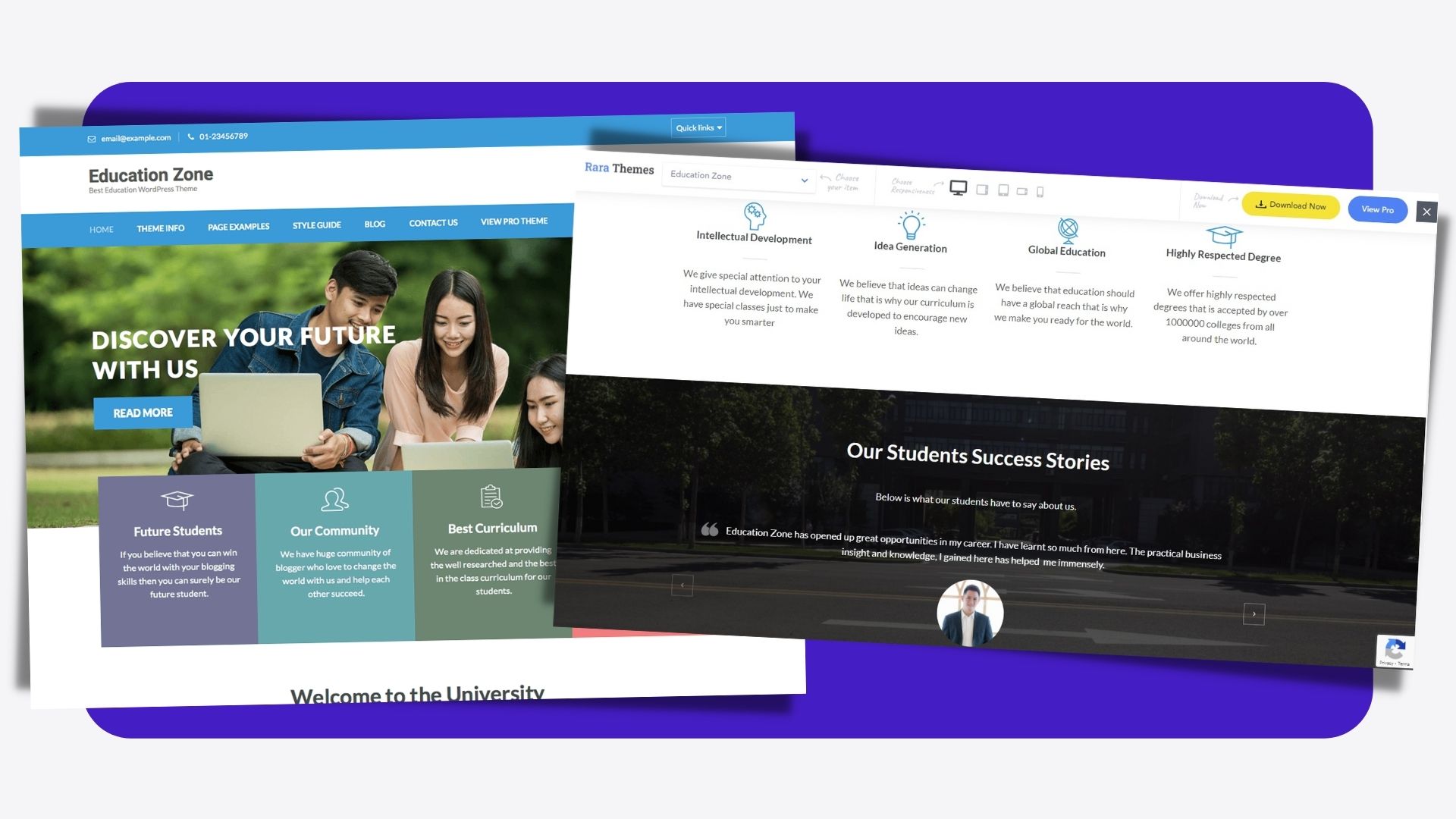 Education Zone is a solid theme for anyone looking to create an online course site, as it actually presents a very basic yet attractive appearance that sets the mood for an engaging and interactive experience that can be tailored to the learners' needs inside an online course platform. It is powered by a responsive grid system that makes sure every click and tap is on the mark and not lost in a sea of scrolling. Some of its unique features include a contact form, Google Maps integration, and the ability to create unlimited sidebars.
This is another theme that sets its focus on institutional education sites but is very much appropriate and effective for creating online courses via WordPress. It may not be the best for functionality, but its creator-friendly persona is the reason why this theme lands on our list.
Related Article:
Wrapping things up:
Of course, you want your online course website to look as professional and beautiful as possible, after all, you have worked hard creating it. With these best free WordPress themes for online courses, we guarantee that your own website, with your own courses, as your own business will look great on the web! Whether you need an elegant design or something more modern-looking; something that is easy to customize or with more features than others have in the marketplace, there are plenty of options to choose from. Make sure not just to take our word for it though- check out this list thoroughly before making your decision.
The success of your business depends on how good people think your website looks, which is why investing time into finding the perfect theme could make all the difference when it comes down to getting new customers through the door.

It's Time to Start Building Your Online Course
As you embark on the journey of selecting the ideal WordPress theme for your online course platform, remember that the aesthetics and functionality of your website play a pivotal role in capturing your audience's attention and fostering engagement. With these carefully curated free WordPress themes for online courses, you are equipped to create an immersive learning experience that leaves a lasting impression on your learners.
As you explore this realm of possibilities, the quest for the perfect theme is undoubtedly a crucial step. Yet, beyond the theme lies an opportunity that promises an unrivaled ease of use, combining the best of aesthetics and functionality. Say hello to Owwlish, an exceptionally user-friendly online course platform that transcends the complexities of plugin configurations. Owwlish empowers creators of all types to seamlessly integrate courses into their WordPress site, embracing a world of simplicity and efficiency.
While each theme on this list brings its unique charm to the table, Owwlish stands out as an effortlessly brilliant solution, ensuring that your focus remains on delivering exceptional content. Navigate the landscape of online course themes with confidence, and consider Owwlish as your partner in creating an unforgettable learning journey for your audience. Take a step forward, explore Owwlish, and elevate your online course platform to new heights of excellence.