Learning management systems (LMS) are plug-ins that you can integrate into your WordPress site to create and manage online courses. These LMS plug-ins ordinarily come with an online course builder, a way to sell these online courses, and other features that facilitate a smooth and enjoyable eLearning experience. However, these can cost quite a pretty penny, with some of the most popular LMS course plug-ins charging more than $300 every month! And so, we have compiled a list of the best free WordPress LMS plug-ins for those who aren't ready to make that heavy investment.
Best Free WordPress LMS Plug-ins
WordPress has a long list of LMS integrations. Many of them offer free trials and market themselves as budget-friendly options. However, we have compiled the ones that will work for any online course creator without them having to pay a single dollar. These are free LMS plug-ins for WordPress that will allow you to create an online course and sell it—no caveats, no time limits, and no breaking the bank.
There's a good reason why LearnPress has established itself as the go-to free WordPress LMS plug-in. While the free core plug-in offers all the necessary features like a user-friendly course builder and built-in billing methods., there are also free and premium add-ons available for online course content creators that want other eLearning features like drip-feed announcements or the option to provide online course certification.
PROS:
Tried and tested. As of 2021, LearnPress has accumulated over 100,000 active users. It's been around for a long time and has received numerous updates during its lifetime.
Ease of access. Even the least tech-savvy WordPress site administrator can use it out of the box, as its interface integrates seamlessly with the WordPress dashboard and functions similarly to a lot of other WordPress plug-ins.
Mix and match add-ons based on your online course needs. It's easy to save up money by paying one-time fees for certain add-ons instead of buying another more costly, albeit more functional, LMS subscription.
CONS:
Core plug-in lacks features. The LearnPress core plug-in is very barebones, so it can get clunky very quickly with all the add-ons you may have to download to make it functional for your WordPress site.
Lack of user support. While premium users have more options, free users are pretty much on their own when it comes to online support.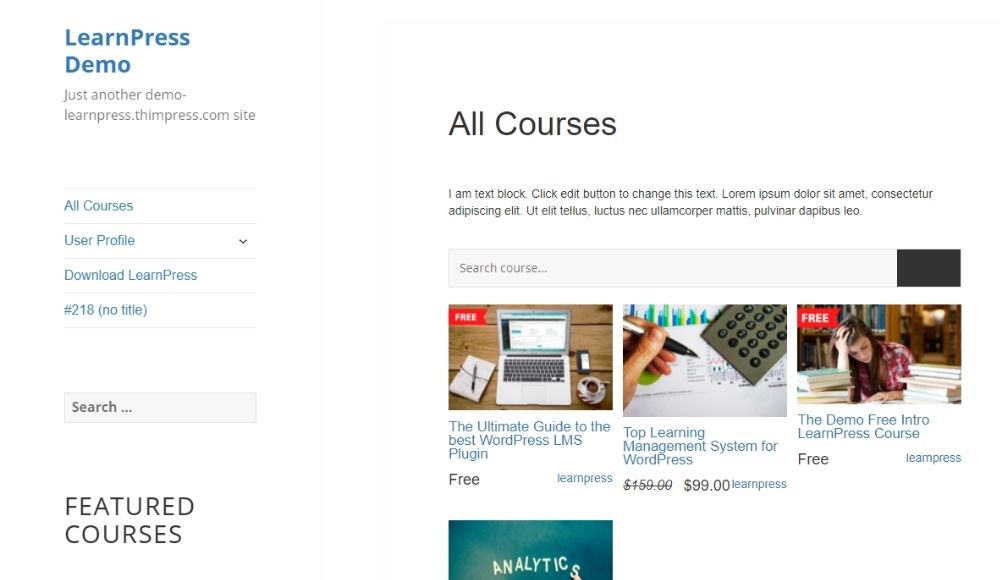 LifterLMS is one of the most popular eLearning plug-ins for WordPress currently on the market. However, its free version leaves a lot to be desired. That being said, it's still worth checking out as it does offer some free features like gamification and certificates that can't be found in other free WordPress LMS packages.
PROS:
Student engagement features. LifterLMS's core plug-in already includes features like badges, automated emails, memberships, and certificates—features that would normally be paid add-ons in other WordPress LMS.
Highly compatible. While LifterLMS does have its own dedicated LaunchPad theme, it works just as well with most WordPress themes including many free themes for online courses.
CONS:
No online payments. The free version only allows site owners to sell their online courses manually. This means that students can only pay via check, which can be a tedious and inefficient way of managing cash flow. LifterLMS does offer eCommerce add-ons, but that's going to cost at least an extra $120 a year that you might not be willing to shell out.
Lack of support. While LifterLMS is frequently updated and has a lot of documentation, that's mostly for premium users. Those with a free package will often have to troubleshoot themselves and are not guaranteed online support.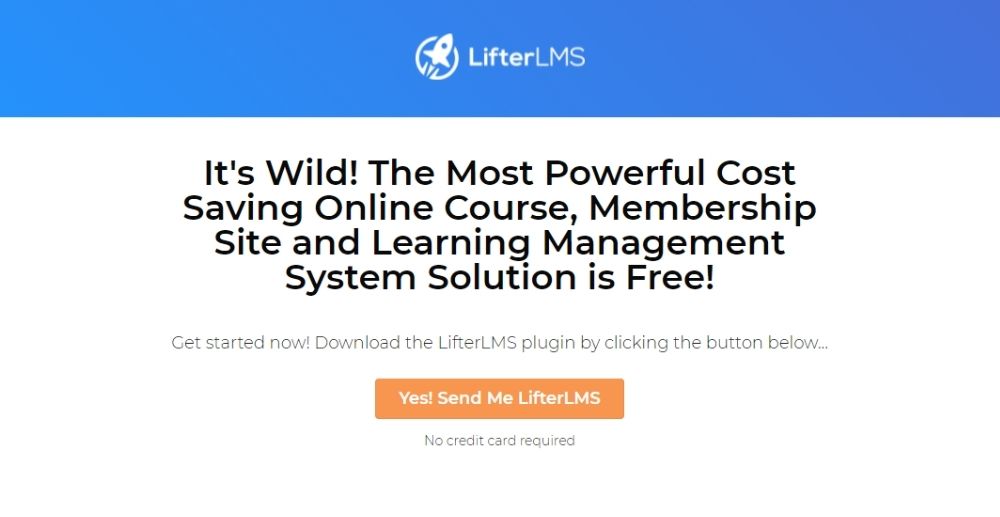 Tutor LMS is a rising star in the world of WordPress eLearning plug-ins. It's one of the most, if not the most feature-rich WordPress LMS on this list—and that's mostly thanks to its powerful course builder.
PROS:
Extremely functional. Its free course builder has a lot of features that most other LMS plug-ins would charge for. It already includes native video uploading and lets you create an unlimited number of courses.
Built-in quiz creator. Tutor LMS has a user-friendly quiz builder with 5 question types. You can get 5 more in the pro version, but the free package already includes the necessary building blocks of a good test—like multiple choice, fill in the blanks, true or false, and essay answers.
CONS:
Lack of monetization options. You'll have to integrate WooCommerce into your WordPress site if you're only using the free version of Tutor LMS. This isn't much of a problem for online course creators who are already using WooCommerce, but for everyone else, they won't even have the option of doing manual enrollments unless they pay for Tutor's pro version.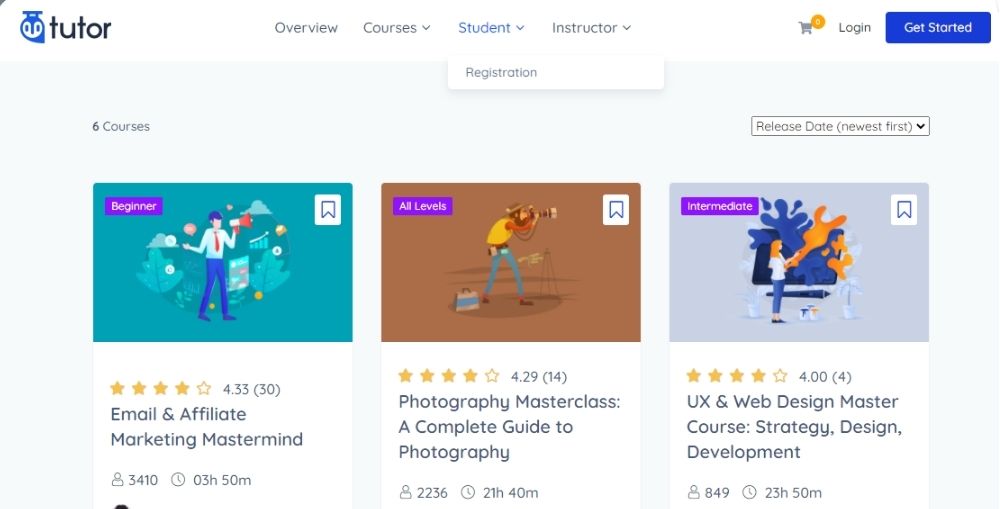 Namaste! LMS is a hidden gem when it comes to WordPress learning management systems. Its course builders are one of the easiest to pick up, and it's one of the best free WordPress LMS plug-ins in terms of selling your online course.
PROS:
Fully functional. The free core plug-in already lets you manage an unlimited number of courses, making it possible to administer a fully-fledged online course website without ever opening your wallet or swiping that credit card. You don't have to pay to be able to integrate Paypal or Swipe, and the Namaste! LMS developers also offer free membership and subscription plug-ins that are made to work well with this LMS.
Intuitive course builder. Their course builders are one of the most intuitive of all free LMS plug-ins, and they also include rudimentary mass email and notification features with their free package.
CONS:
Limited compatibility. Not many WordPress themes are compatible with Namaste! LMS, so you'll be needing the $47 Namaste! LMS premium theme to fully take advantage of this plug-in.
Integral features are locked behind the pro package. Important online course features like drip content, scheduled announcements, and membership options are also gated behind a paywall. However, these premium features do come at the relatively low price of a one-time $147 payment.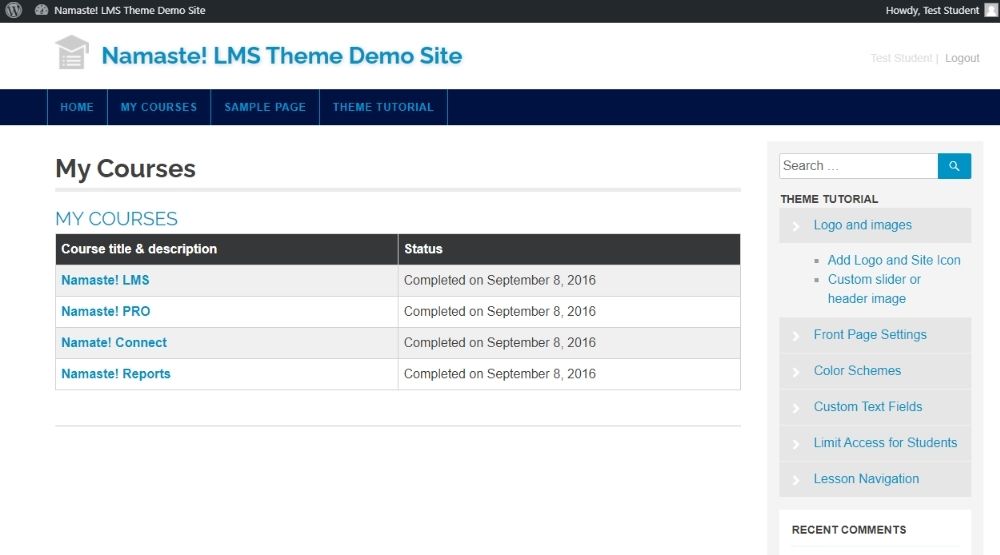 Masterstudy LMS is a relative newcomer in the world of WordPress eLearning plug-ins. However, it has already made a name for itself by having a beautiful and uncomplicated UI, a handful of unique features, and versatility.
PROS:
Front-end online course builder. If your online course business involves a handful of instructors, this feature will be a godsend. A front-end online course builder allows instructors to make online courses without being site administrators and having to finagle with the WordPress dashboard.
Highly customizable. Masterstudy LMS offers a list of shortcodes that can be used to customize your WordPress site. Using shortcodes, you can take modules from Masterstudy LMS and easily integrate them into other WordPress themes.
CONS:
No automation. Unlike other LMS plug-ins, there are no built-in options for scheduled posts or drip-feed content. This is particularly concerning for those who want to scale up or have a considerable number of clients.
Fewer integrations. Masterstudy is compatible with fewer third-party add-ons compared to other LMS plug-ins. It doesn't integrate well with software like Ninja Forms, Zapier, and other popular plug-ins that you might already be using for your WordPress site. However, it does make up for this by being able to integrate with Zoom and Google Classroom—but only for the paid version.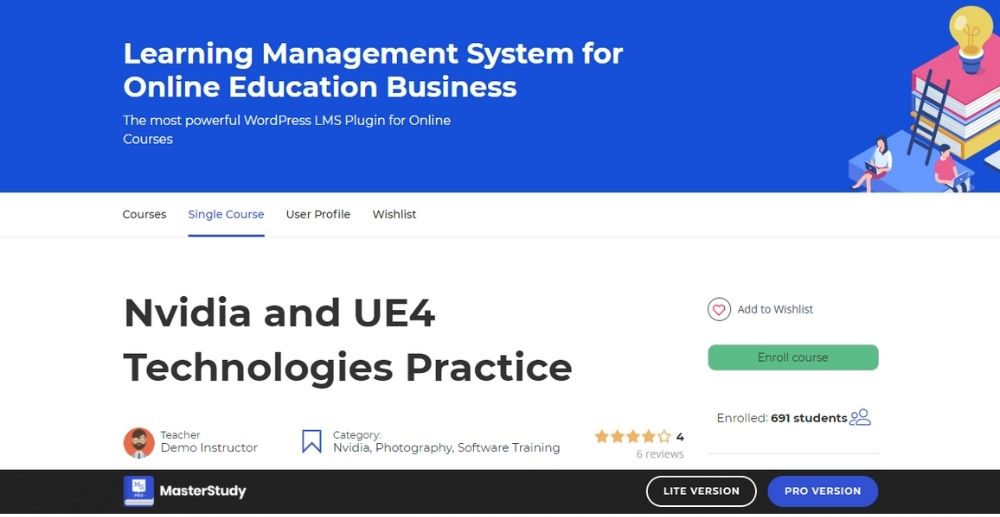 And those are the 5 WordPress LMS for the online course creator on a budget. They're also perfect for agencies or website developers who are willing to shell out a little more but still want value for their money—as almost all of them offer multiple site support and licensing as part of their paid packages.
You don't need massive capital to start selling online courses. Just pick up any one of these WordPress LMS, tinker with them for a little, and you'll be surprised with how far a free product can take you.
It's Time to Start Building Your Online Course
As you delve into the world of WordPress LMS plugins for crafting exceptional online courses, you're undoubtedly seeking a solution that aligns with your budget while providing top-notch functionality. In this pursuit, Owwlish emerges as an invaluable asset, offering a brilliantly easy online course platform that caters to creators of all types. Owwlish transcends the limitations of cost, providing you with the tools to design and manage online courses that stand out. Whether you're an educator, a professional, or an entrepreneur, Owwlish ensures that your online courses become a reality without the burden of exorbitant expenses.
Embrace Owwlish as your partner in transforming your ideas into impactful online courses. In a realm where budget considerations are paramount, Owwlish delivers unmatched value, guiding you on a journey to educational success. Take the leap into the world of online course creation with Owwlish and experience the difference that a brilliantly easy online course platform can make.
Related Articles: