When it comes to delivering captivating and impactful online courses, having a well-designed home video recording set-up for online courses is an absolute game-changer. Unless you have years of on-camera experience, recording videos is often a daunting task for first-time creators.
There are never-ending questions regarding the right tools to use, how to achieve pro-looking quality, and whether or not to record with a smartphone.
Contrary to most beliefs, recording high-quality video is easier than most people think, and neither do you need to invest in expensive gear. All you need for a start is a desk, a chair, a home-recording space, and the right tools.
This guide will walk you through every step of the budget-friendly home studio setup process – from choosing the right audio and video gear to nailing the perfect background for video shoots.
Step by Step Guide On The Perfect Home Video Recording Set-up for Online Courses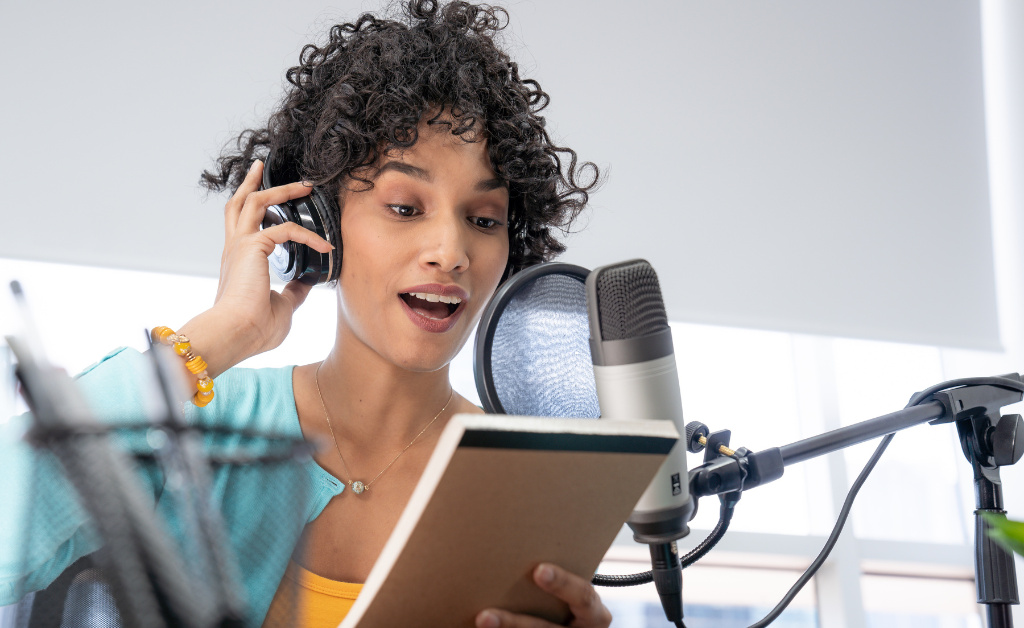 Step 1: Get your tools set.
When it comes to video recording, your choice of tools makes a lot of difference. Fortunately, you don't need to break the bank to assemble the right recording gear for your online course.
Several budget-friendly options can help you create videos that rival the looks and quality of professional videos. And here are our favorite audio, video, and lighting picks for course creators on a budget:
Audio tools
For videos, if you have to choose between high-quality audio or visuals, audio should be of higher priority. Think media's Omar El-takrori emphasized this when he said – "audio makes 50% of video viewing experience". From observation, videos with echo or hissing sounds make it difficult for learners to watch till the end.
An essential part of your audio setup is a high-quality microphone. And if you plan for your face to appear on video without showing your mic, here are the two types of mics worth investing in Lavalier and Shotgun mics.
Lavaliers are designed not to be seen during video shoots. They are mostly wired and can be clipped to your T-shirt, blouse, or button-down during course recording. And because of its wired design, you can plug into your video recording device (Smartphone or PC) and move around without distorting the audio quality.
Our favorite budget-friendly pick for a Lavalier mic would be the Deity V.Lav and the Rode Smartlav+, which both comes with pop filters that remove off-camera distortions like echos and hissing wind sounds.
Unlike Lavaliers, shotgun mics are directional and designed to pick up sounds directed toward them. It's useful for recording in one spot and can be boomed off from view. The Rode Videomic on-camera microphone is one of the best shotgun mics to invest in.
Video setup
Unless you're a veteran, you might not need to invest in a digital camera for your online course. Most smartphones and PCs can record 1080p or 4k videos, which is sufficient quality for your online course.
However, if you're recording on a smartphone, you need a tripod for hands-free recording. For stability, opt for tripods built with aluminum or carbon fibers. While those with extendable legs and tilted heads allow for flexibility during video shoots.
If you're recording on an iPhone, the Ravelli APTL3 53-inch tripod is popular among iPhone users. While the UBeeSize 60" extendable tripod looks like a good fit for Android users according to Amazon reviews (not an affiliate link, sharing because it's a good product).
Lighting
The good news is: Good lighting doesn't have to cost you a single dollar. Natural light remains unbeatable for video shoots. You can take advantage of this light source by setting your recording desk close to a window.
The downside to natural light is that you can't control its intensity, and night recording is impossible. To be able to shoot videos whenever you want, you need to invest in lighting kits. But what lighting kit should you get?
You can choose between any of these three:
Ring light: Best for close-up recording and only focuses on the creator's face
Softboxes: Offers daylight intensity and total coverage in small spaces
LED panels: Captures wide areas but often casts shadows
If you have to choose one among these three, we recommend going for a softbox due to its light intensity controls and flexibility. A good softbox worth looking at is the Mount Dog soft box Photography Lighting kit which costs under $100 ( As of the time of writing this)
Now that you have assembled your gears, let's look at setting up your space and picking the right background for your videos…
Step 2: Desk setup
It makes life a lot easier to set up in a stationary way and have all your gears live on your desk. However, if you want to be able to easily switch positions (especially when recording with natural light), without taking your gear down, you might want to consider desks with wheels.
Ideally, it makes sense to have your desk stationed in front of your background. While all your gear should be organized on it- starting with your laptop, tripod stand, and microphone. In contrast, most creators prefer to have their lighting kit erected in front of their desks to provide that cinematic effect during recording.
Step 3: Getting your Background Right
Your background allows you to add a personal touch to your videos. This is where you inject branding or artistic elements such as wallpaper, picture frames, or bookshelves to spring the room to life.
When it comes to backgrounds, natural options like backdrops look more realistic than virtual ones. An affordable but flexible backdrop option would be green sheets which are quite popular among course creators.
Unlike other colors, green sheets provide green screens, which serve as a placeholder for other backgrounds.
Conclusion
You don't need to break the bank to set up an indoor recording studio for online courses. If you're a first-time course creator, it's best to start with what you have – a smartphone, desk, and a small space in your home. Once sales start rolling in, you can upgrade your gear.
Lastly, you will need software to host your online course after creating your content.
Owwlish offers all the tools you need to host and sell your online course on your website. You can take advantage of our free trial to kickstart your course creation journey. Go here to sign up now.
Suggestions: