Squarespace is a rising star in website hosting. Its designer templates and intuitive website builder has made it one of the most popular content management systems on the market. While Squarespace is very good at doing many things, building online courses have never been one of them. It was not easy to host online courses on Squarespace. Users often had to look to unreliable, third-party standalone sites to host their online classes, making for an experience that was very clunky, complicated, and unsecured.
Owwlish has finally offered a solution for people looking to host online courses on Squarespace. No need to download a mess of apps or deal with confusing coding. Here are the simple steps you need to take to start an equally simple online course operation.
HOST YOUR ONLINE COURSES IN SQUARESPACE
Step 1: Set Up Your Owwlish Account
Create an Owwlish account to host your online courses in Squarespace. You can create an unlimited number of courses if you opt for the premium plan. If you only plan to offer a single online course, feel free to go with the Basic plan. But if you expect a lot of students, consider purchasing the Premium plan to minimize your business cost in the long run, as it offers a lot of features that are worth paying for!
Step 2: Upload Your Online Course Content
Owwlish lets you upload videos directly to its course builder; but if you have existing course videos uploaded on YouTube and Vimeo, you may embed them instead. There is no need to go to a third-party site to upload your videos and to make it even more inconvenient, having the option to embed videos gives your site a faster loading speed that your customers are sure to appreciate.
Everything else is much easier to handle. Written content can simply be uploaded in Owwlish's text block.
Step 3: Integrate Owwlish with Squarespace and Host Your Courses
Integrating Owwlish with Squarespace
Now that you have set up your Owwlish account and created your courses, it's time to finally integrate your Owwlish account with your Squarespace site. Before going through the steps below, make sure to set up your Squarespace site– you also need to be at least in Squarespace's business plan to successfully establish an integration.
Note: Squarespace requires that you are on their Business or Commerce plan to utilize the code injection feature (discussed below) required for Owwlish courses to be embeded in your Squarespace site.
Finally, here are the steps:
Log in to the Owwlish app and on the right sidebar menu, click on Settings and select Platforms.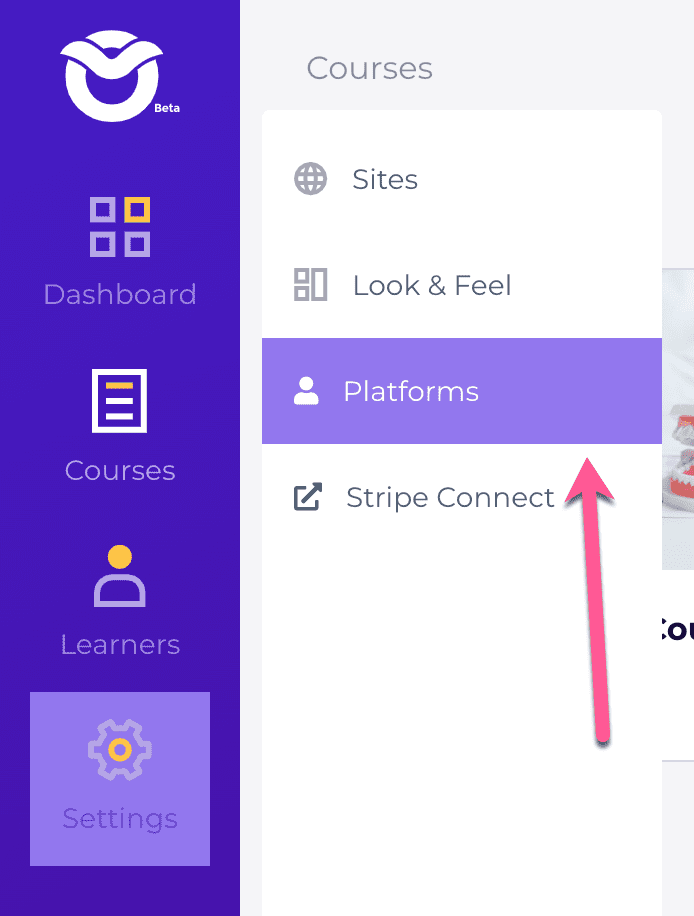 Choose the Squarespace logo from the list of platforms.

Name your integration however you want and input the URL of your Squarespace site under Hosted Site URL.

NOTE: If you've connected your Squarespace site to a custom domain name (ie. mysite.com), the Squarespace site editor may show a different URL in your browser while building/editing your site than your primary domain, which may cause a URL Mismatch error when trying to display your Owwlish course. See this help article to resolve the issue.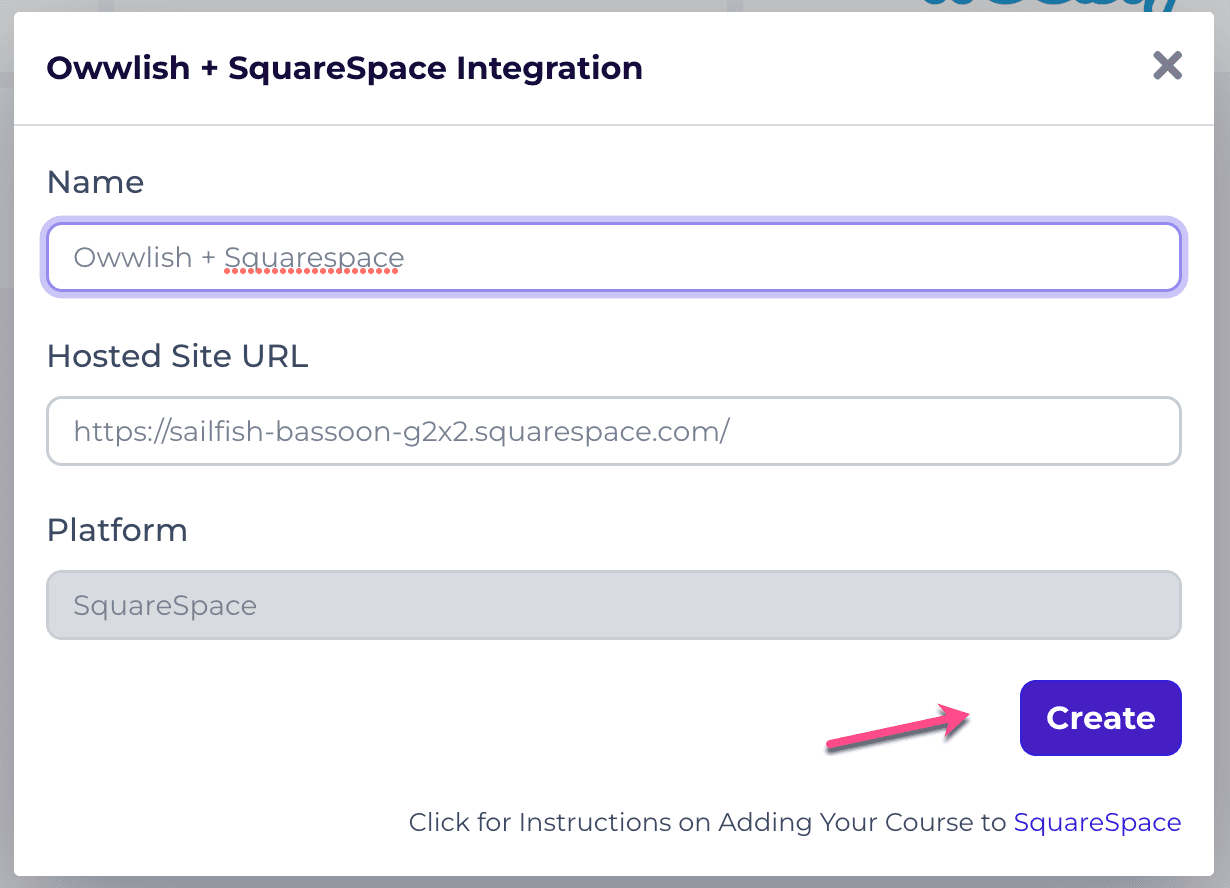 Click on Create to save changes.
You will then be redirected to a page where you can find the sites you have integrated with your Owwlish account.
Select the site for your Squarespace integration and click on the Client ID link. Doing so would show an integration popup box where you can grab your unique creator integration code.

Go to your Squarespace site and click on your Site settings.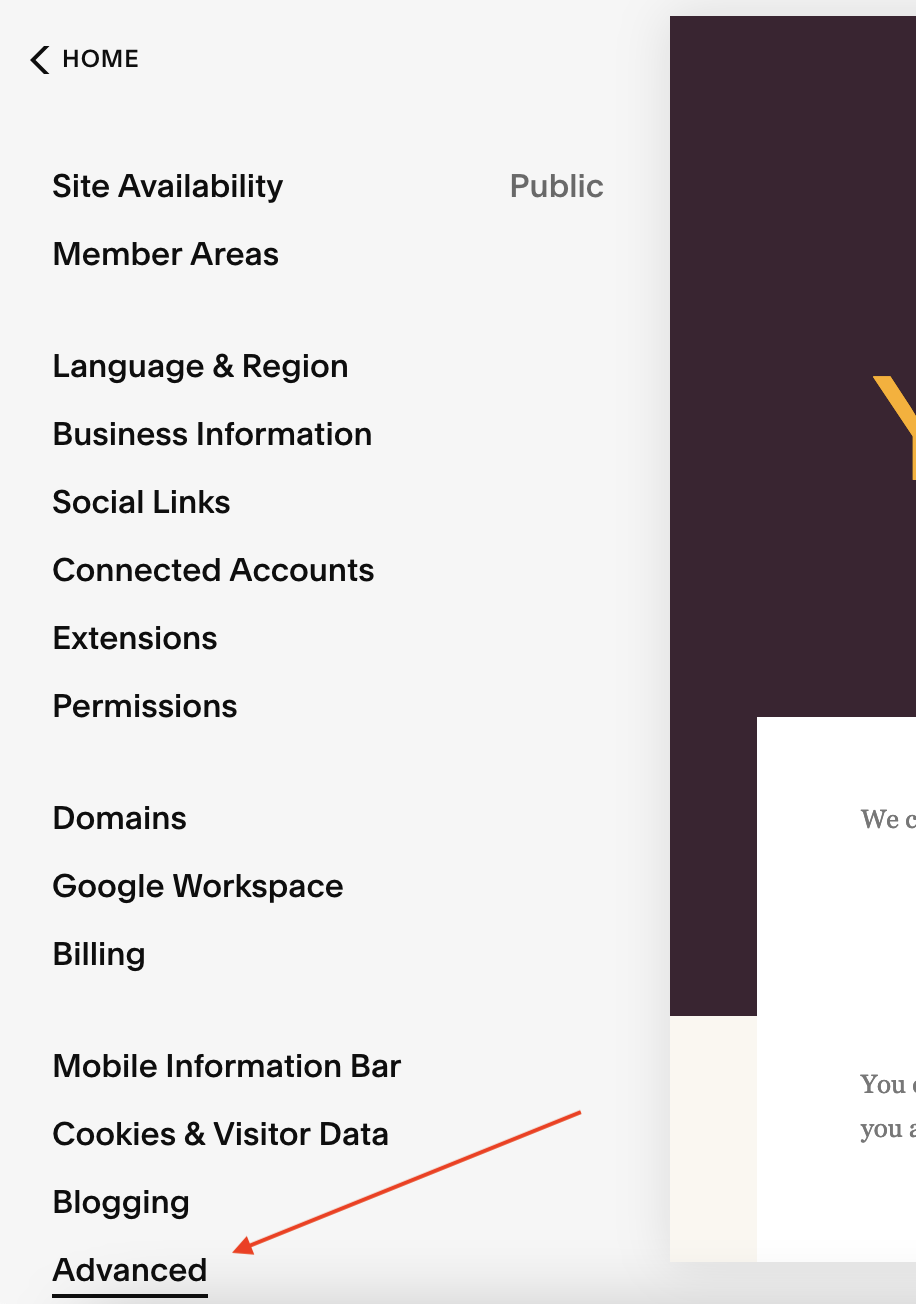 On the next page, select Advanced and click on Code Injection.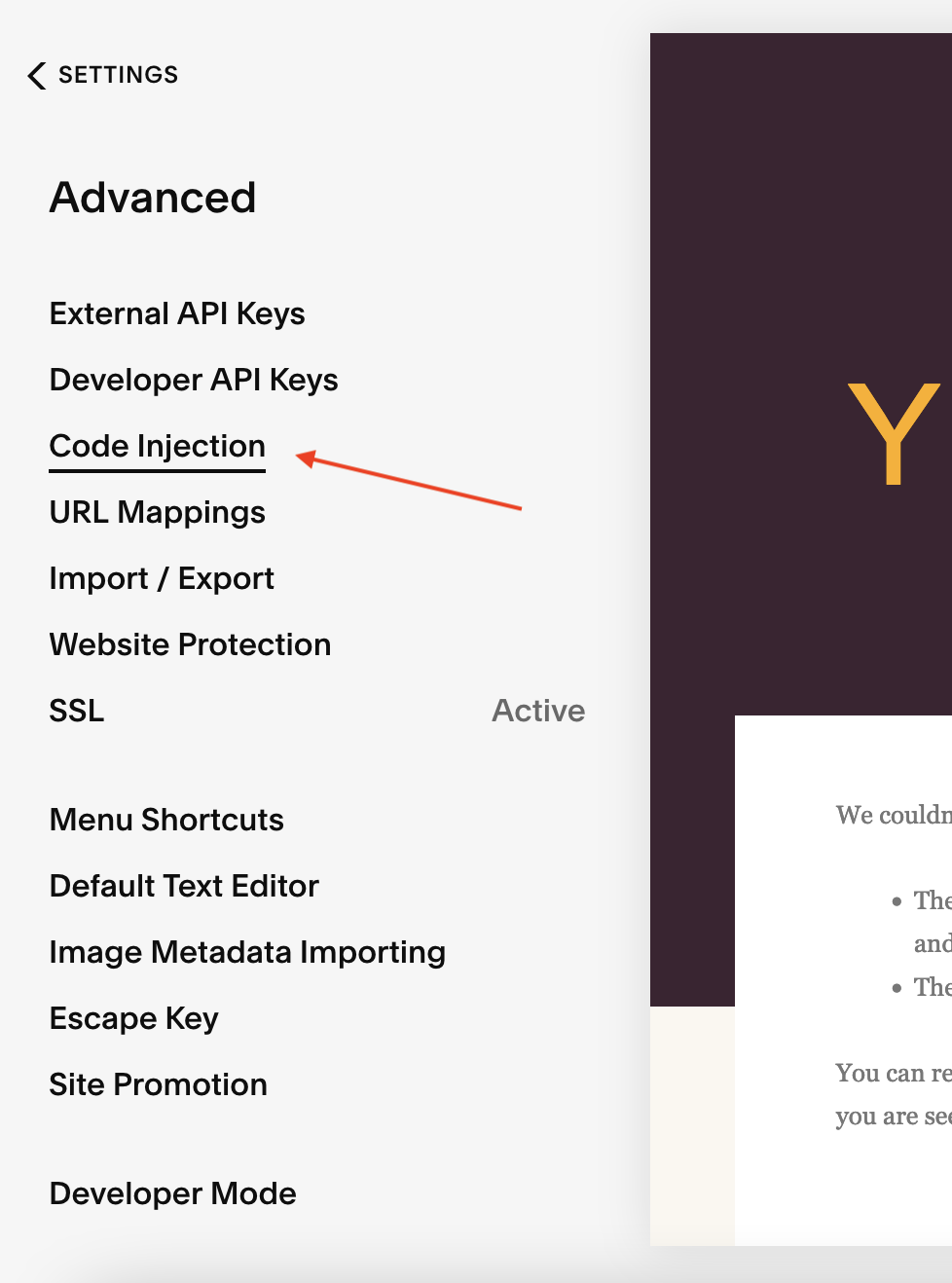 On the next page, paste your unique integration code in the box provided under Footer. You can grab your unique integration code from the Owwlish integration popup box earlier. This code should be under Step 1 and should be in the following format:
<script>var owwlish_id = 'XXXXXXXX-XXXX-XXX-XXXX-XXXXXXXXXX';</script> <script src="https://app.owwlish.com/integration/js/embed.js"></script>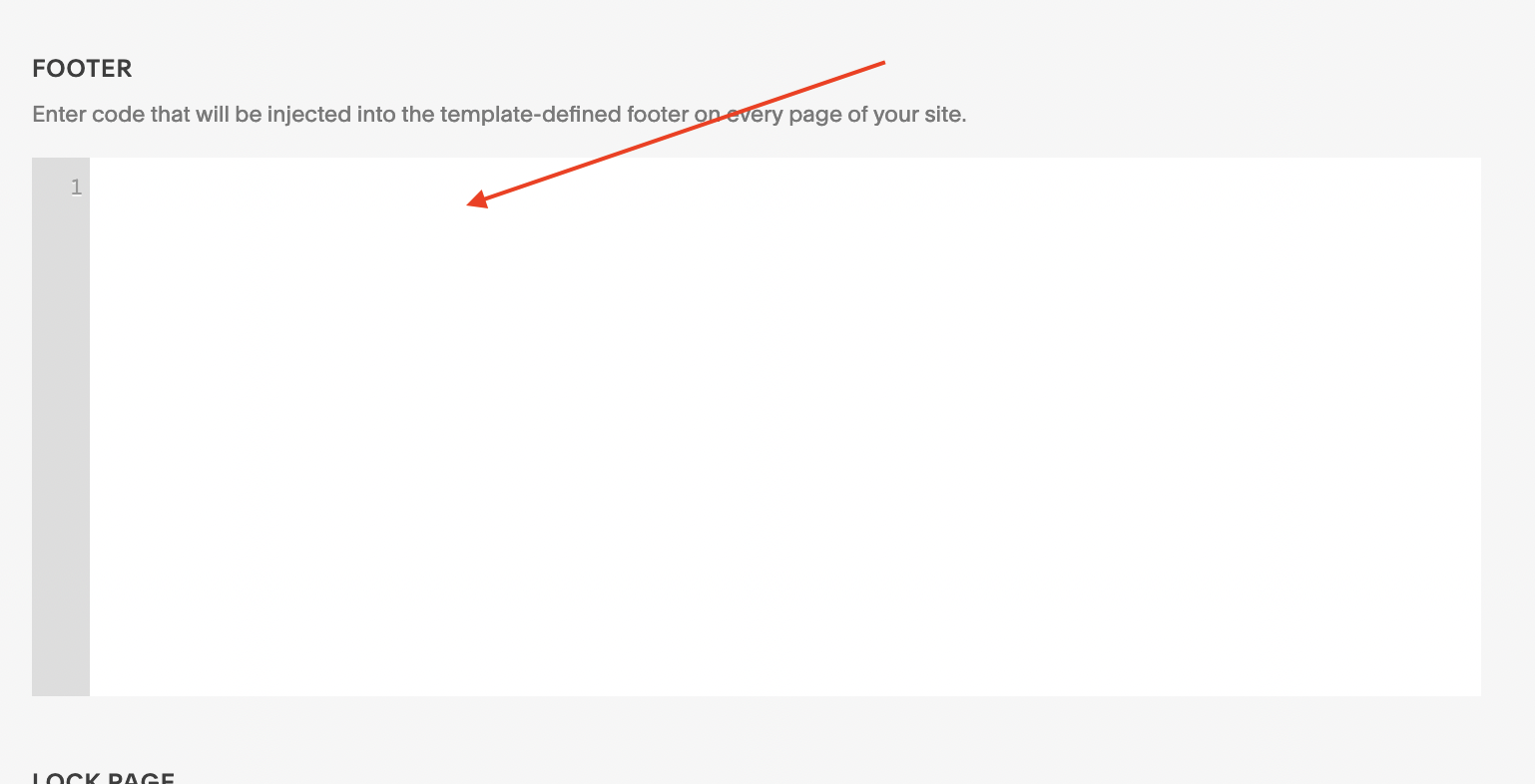 Save changes and you have successfully integrated your Owwlish account with Squarespace.
Displaying your Online Course on a Squarespace page
Create a new page (or use an existing page) on your Squarespace site where you would like to display your Owwlish course in.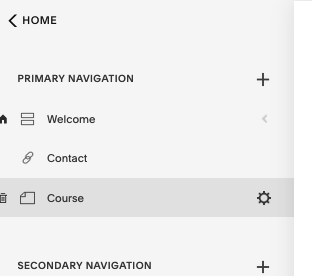 Once there, add a Code block.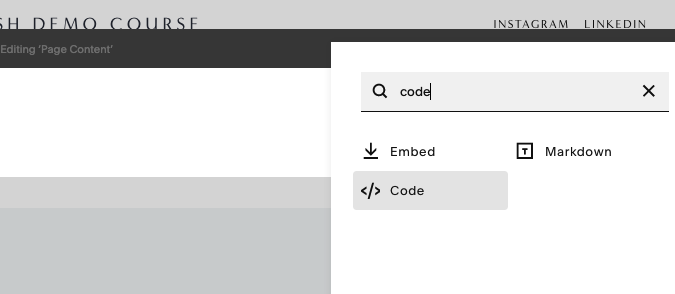 Go back to the integration pop-up box, and under Step 2, select the course you would like to host from the drop-down. A new course code will be generated for you after.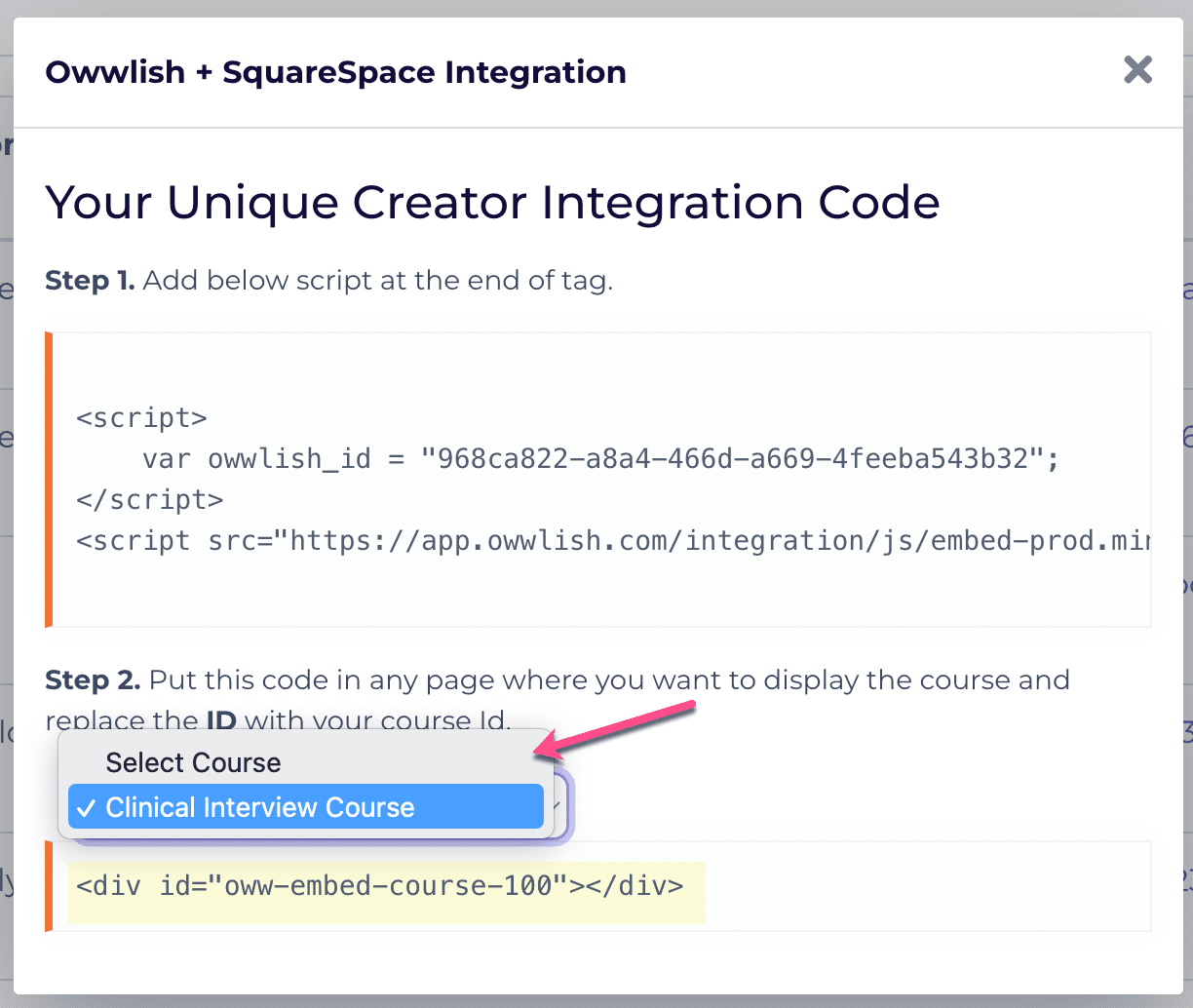 Copy the newly generated course code and paste it into the code block of your Squarespace page.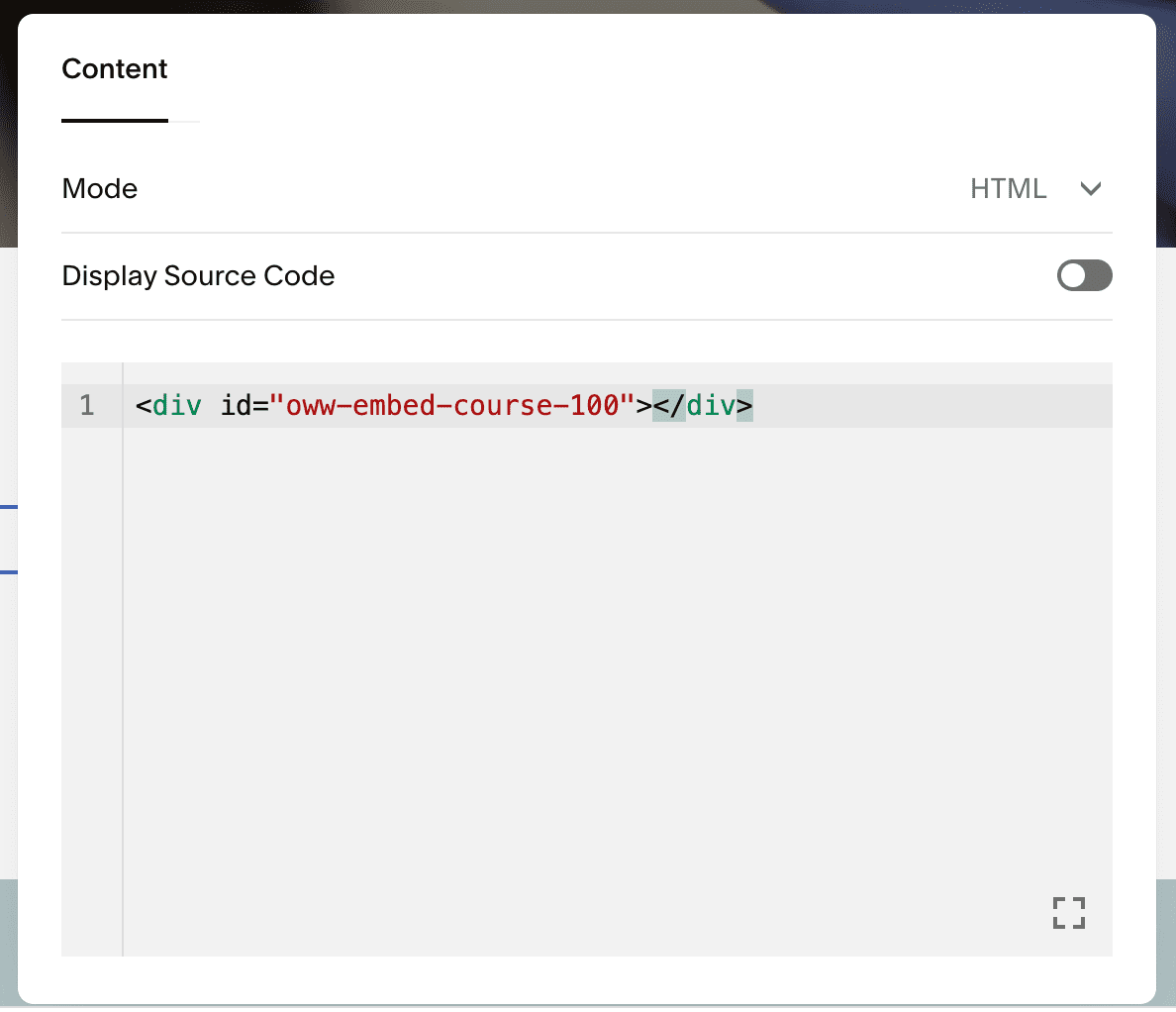 Save changes and you have successfully hosted your Owwlish course!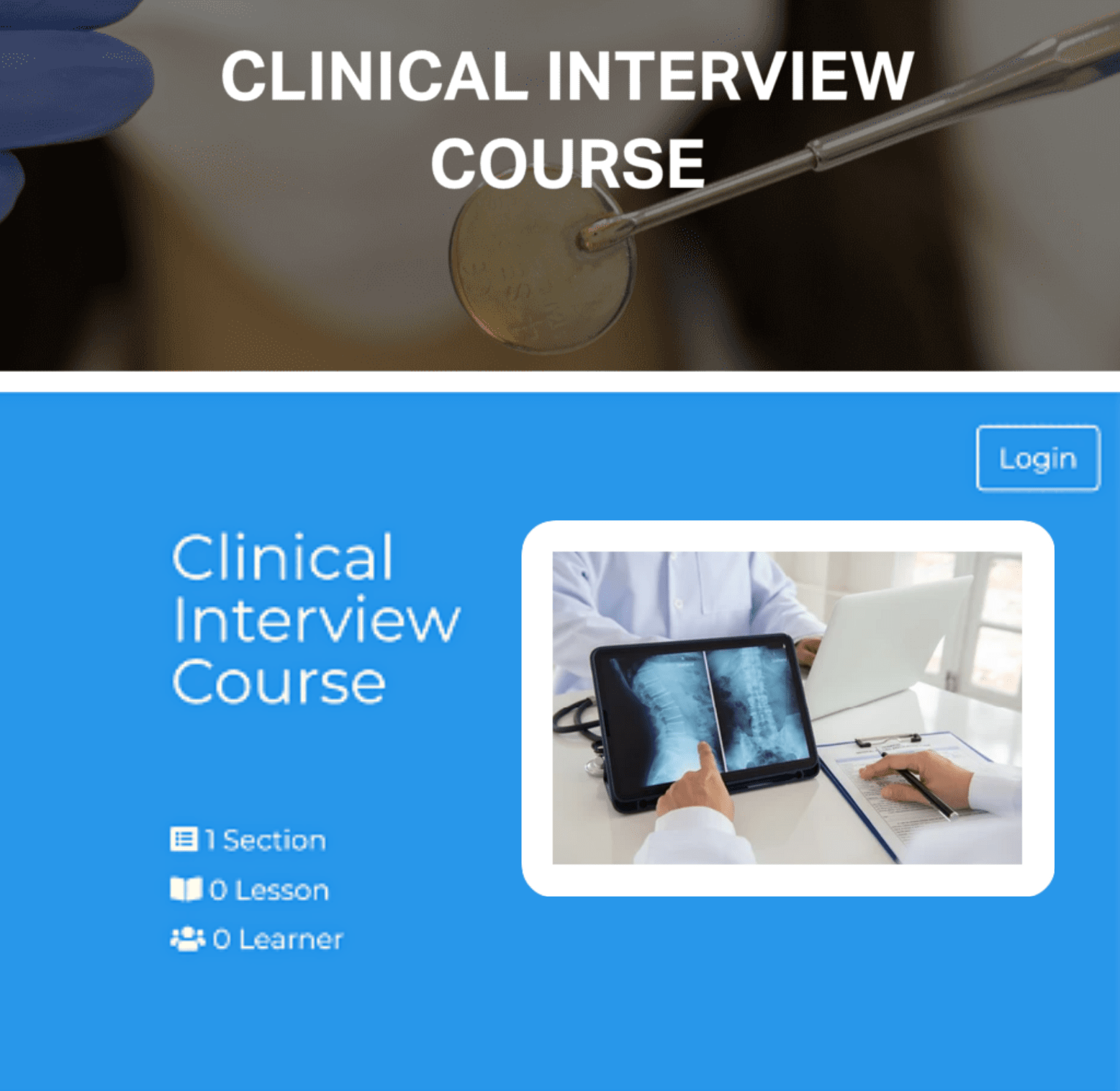 A Word about Styling Your Online Course
One common issue with embedding Owwlish courses onto your Squarespace site is that the course overview (seen in the image above) is often a much smaller width than most creators prefer. Often there's too much padding (margins) on both the left and the right of your course. This can be fixed with a little bit of CSS, as shown below: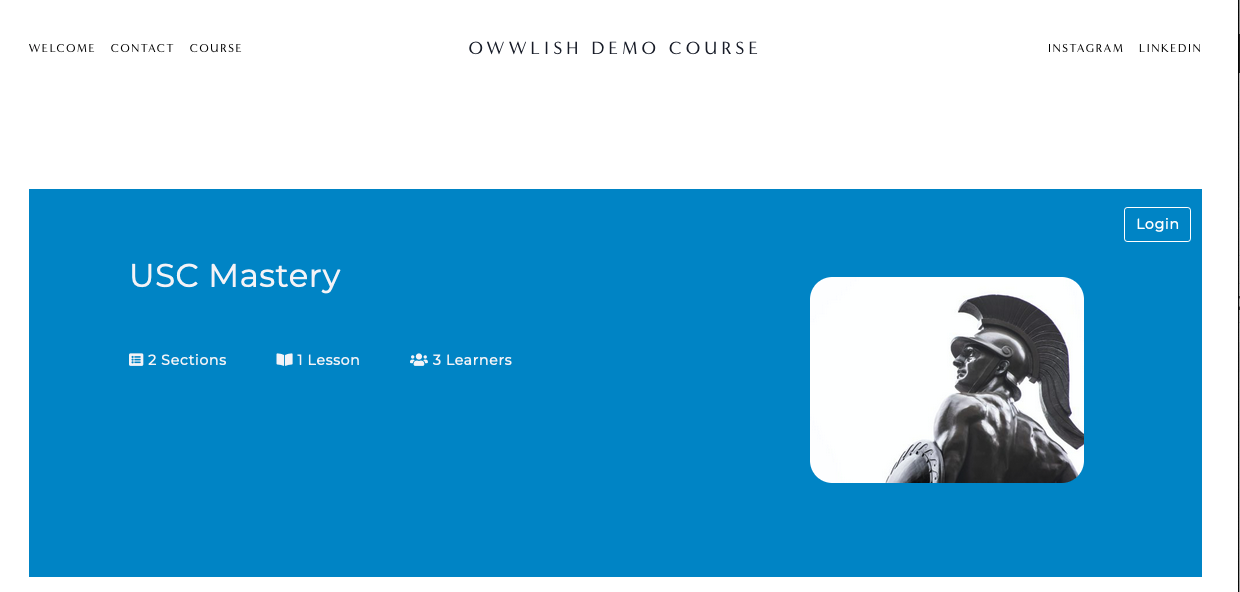 To see how to fix this, check out our video guide for styling your course on your Squarespace site.
Conclusion
While Squarespace may not be the definitive platform for online courses, you don't have to go through the trouble of migrating your established business from complicated learning management systems just to host your online courses. With its recent updates and ongoing support, Owwlish promises to deliver on the promise of being an easy and flexible course builder.
Related Article: How to Create Online Courses in Webflow?