So, you've set up an online course website and put out the word on your social media. Hey, maybe you've even paid for some ads or written up a blog post here and there recommending that people try it out. Of course, you can always link to your online course website's homepage, but there is a better way to turn those leads into customers. In other words, it's time we learn how to make an online course landing page.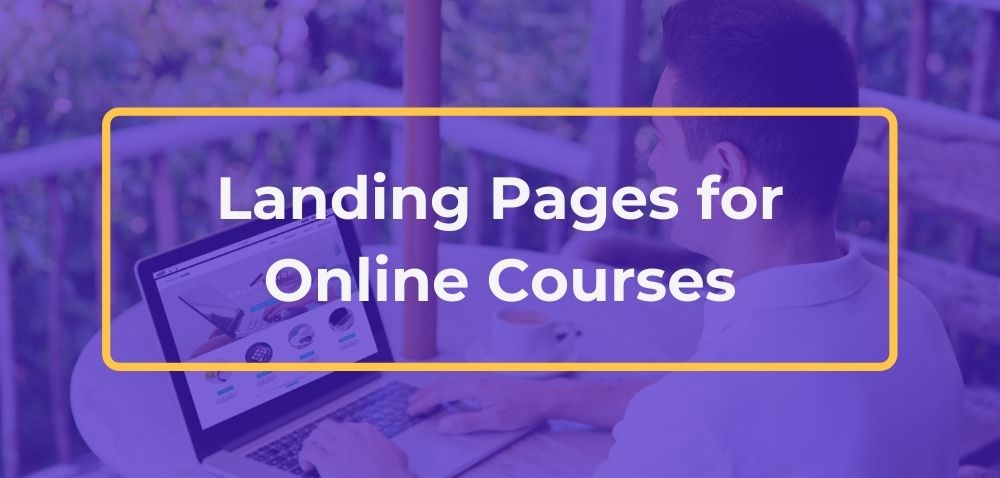 How To Make An Online Course Landing Page
Step by step guide on how to make an online course landing page.
What Is A Landing Page?
A landing page is where your visitor "lands" after clicking on an advertisement or offer for your online course. Naturally, people who arrive on your online course landing page are only a step away from making a purchase or signing up for your online course.
Your online course landing page is different from your website's home page. A home page directs your visitors to multiple parts of your site 一 the online shop, the blog section, the online course catalog, and all the other pages on your website. On the other hand, a landing page only has one goal in mind, and that's to transform site visitors into fully-fledged clients. And so, it's important to design a sleek and streamlined landing page 一 no distractions, no other offers, just a straightforward good deal clear on the page. If done right, a landing page will be the hesitant person's final nudge into signing up or purchasing your online course.
Example of An Effective Online Courses Landing Page
Like most things in life, let's not overcomplicate it. Simple and straight to the point is always an excellent way to go when it comes to designing an effective landing page. Here's an example of a landing page from International Dentist Central.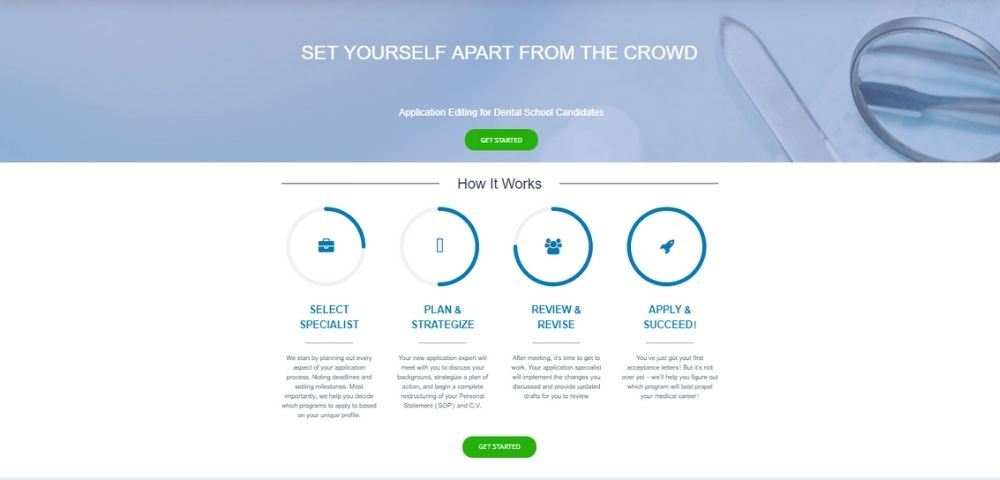 International Dentist Central offers online courses on getting into top dental schools in America. This particular landing page is for their Application Editing online course. There's a lot that goes into dental school applications 一 choosing your program, writing up personal statements, and curating your CV 一 but this landing page keeps it clean. It doesn't overwhelm the viewer with all that information from the get-go.
If you're curious as to how to make a similar landing page for your online course, then read on.
Related Articles:
The Core Components of an Online Course Landing Page
Believe it or not, you only really need five elements on the landing page for your online courses. Remember that people who made it to your online courses landing page are already interested in your online course, so it won't take a lot to get them to click on the sign-up button. Here are the five core components of an effective landing page.
1. Headline of an online course landing page
The landing page headline is a short statement that is meant to captivate the reader. Usually, it is a promise or the objective of the online course. Sure, you could put your online course name as your landing page headline. However, keep in mind that the headline is the first (and often lasting) impression you make on your potential client. The headline will be the go-to phrase they associate with your online course, so you want it to be as impactful and memorable as possible.
2. Sub-headline of a Landing Page
You can use your sub-headline to write up a short description of your online course, but if you've taken the steps to make a catchy and marketable online course name, then your online course name will more than suffice as a sub-headline.
3. Call-to-Action for an Online Course
A call-to-action or CTA is a marketing term that just means something that prompts your potential client to, well, take action. These usually come in the form of clickable buttons that urge the visitor to "sign up", "subscribe", "learn more", and "add to cart" 一 you get the picture. Notice how the CTA button in the landing page example is a stark green which contrasts with the blue and white web page colors.
The CTA button must be the most visible element on your online course landing page. Be careful not to overdo it, though. The last thing you want your CTAs to do is to emulate intrusive pop-up ads that only serve to annoy and turn off your site visitors. A good rule of thumb is to have a CTA button at the top for those ready to make an immediate purchase and another at the bottom for those who still need to mull it over before making that click.
4. Hero Image in a Landing Page for an Online Course
A hero image is a prominent visual element that captures the visitor's attention. In the example above, the hero image is a photo of dental tools as a header. However, hero images can also be your brand logo, a slideshow, or even a short video or moving gif. This adds that much-needed flavor to an otherwise bland online course landing page.
5. Features and Benefits
This is where we elaborate on the features and benefits of your online course. Use this part of the landing page to establish expectations and outline your online course's main objectives. Like all the other elements, we recommend keeping this portion short and sweet. Treat it like a three-minute sales pitch, and reveal only as much to sell the reader on your online course.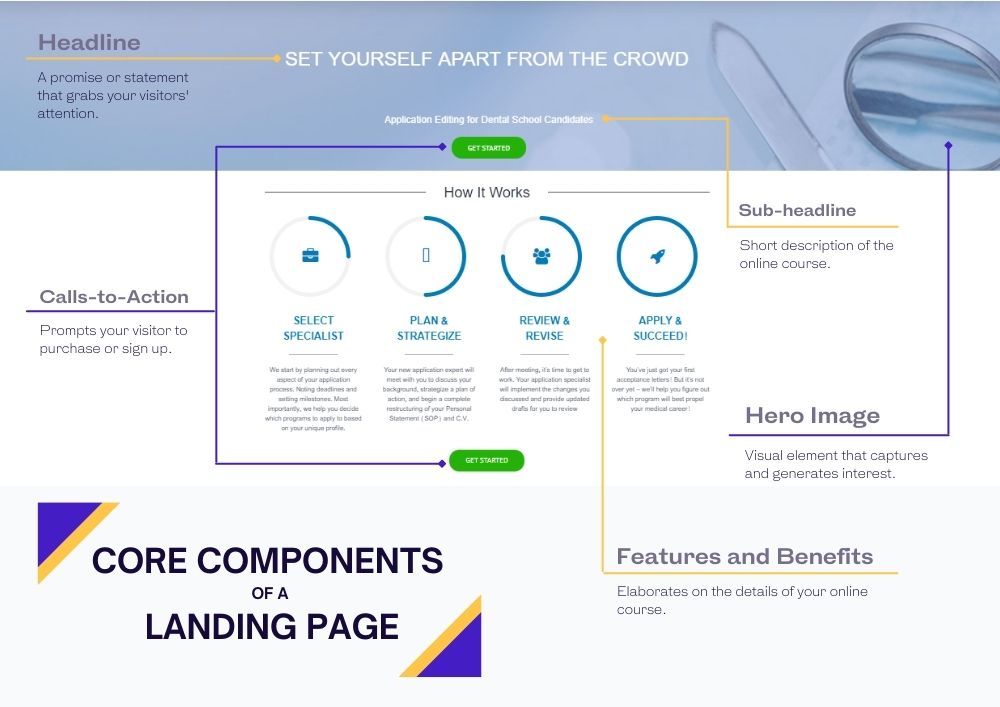 And that's it! You don't need to adorn your online course landing page with fancy bells and whistles. If you believe in your online course's quality and marketability, the best thing to do is to present it on the landing page as is. Giant banners, flashy graphics, and a flood of testimonials with strangers' names will just distract from your online courses' inherent quality.
Related Articles:
It's always helpful for aspiring online course creators to examine other successful online courses' landing pages for further inspiration. You'll see different styles and methods in designing an effective landing page, depending on the online course. But there is one thing we can guarantee — if you want something foolproof, keep it straightforward.
It's Time to Start Building Your Online Course
As you embark on the journey of creating an effective online course landing page, the key is simplicity and impact. While the components of a compelling landing page might seem straightforward, the execution requires finesse and understanding of your audience's needs. In this endeavor, consider harnessing the power of Owwlish, a brilliantly easy online course platform that not only facilitates course creation but also provides a seamless solution for crafting captivating landing pages.
Owwlish empowers you to bring your vision to life, transforming your landing page into a dynamic gateway that effortlessly guides potential students toward making a decision. With its user-friendly interface and powerful tools, Owwlish streamlines the process of designing an effective landing page, ensuring that your core message shines through without distractions.
In a world where every click matters, Owwlish stands as your partner in creating landing pages that resonate and convert. As you navigate the intricacies of online course promotion, Owwlish offers the perfect platform to showcase your courses and engage your audience. Embrace the potential of Owwlish and make your online course landing page a compelling gateway to educational success. Experience the seamless fusion of creativity and functionality with Owwlish today.