Here is our guide to finding the Best WordPress LMS Plugin Alternatives to LearnDash. There is no doubt LearnDash is a great learning management system (LMS) that has been around for a while now. As a result, it has gained many positions over the years to attract users with an easy-to-use platform. And so, many people, i.e., entrepreneurs, online educators, content creators, and more, utilize LearnDash. It helps them with their academic education, asynchronous learning, and blended learning.
Despite its advantages, LearnDash may not be as efficient. If ease of use, affordability, user rating, or cost performance are priorities, many other tools meet your needs. Other alternatives to LearnDash come with much better features and advantages, and some are free of charge. This article will look into the top five WordPress LMS alternative plugins to LearnDash, based on their most common vital features and benefits.
5 Alternative Plugins to LearnDash
These alternatives to LearnDash include:
Owwlish
LearnPress
Sensei
WP Courseware
Lifter MS
Owwlish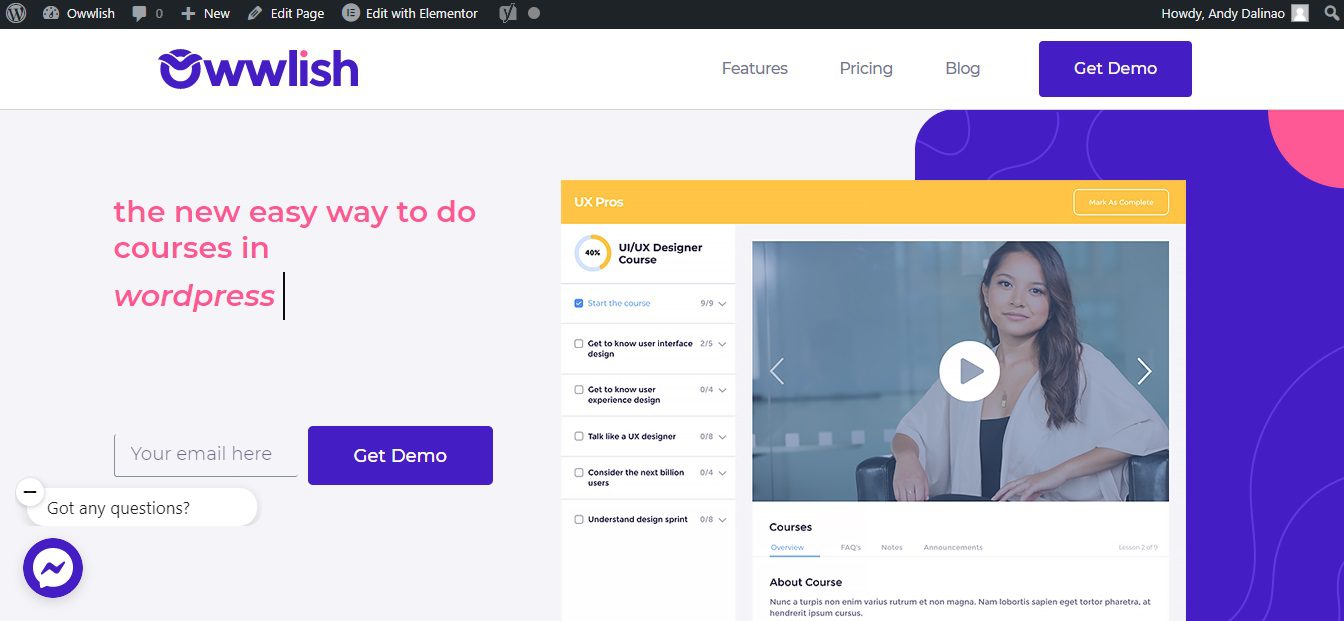 Owwlish is a new and easy way to add online courses to your website, regardless of the website platform you are using. We are one of the LMS alternatives for LearnDash. At Owwlish, you can simply create a course using a simple builder, copy and paste a few lines of code, and the finished product is published on your website for users to sign up and start learning.
The course website you create with Owwlish can incorporate into marketing systems such as WordPress, Squarespace, Webflow, Shopify, Weebly, static HTML sites, Clickfunnels, and more. This LMS solution is trying to shoot for really shortening that web-development time. It prides itself on providing the easiest, most convenient course-building experience both for creators and students.
What Are Some of Our Features?
At Owwlish, we ensure all our customers enjoy a beginner-friendly, easy-to-use platform. Furthermore, we strive to enhance convenient learning management for your online courses with these features:
No more subdomains. Why should you take a course when you can send learners to another subdomain and add them directly to an existing website without hassle? Owwlish is a platform that will provide learners with smooth onboarding while maintaining your brand consistency.
Content Protection. With Owwlish, you can now protect your course videos. The platform prevents your valuable content from being downloaded/shared by others.
Easily add courses to WordPress. Adding courses on most LMS plugins is tedious and complex. However, in Owwlish, with just a few clicks, your courses will now be on your WordPress site in no time.
Easy Course Builder. This is actually Owwlish's most essential selling point: Ease of use. Both the front and back ends of this LMS solution provide so much comfort and advantage in just a few clicks in a short time.
Beginner-friendly Interface. With Owwlish, organizing lessons, modules, uploading videos, and adding rich text is easier and more efficient. All there is that a course creator would need to build out a complete eLearning website is already in Owwlish. Its dashboard has all the essentials that both teachers and students will need.
LearnPress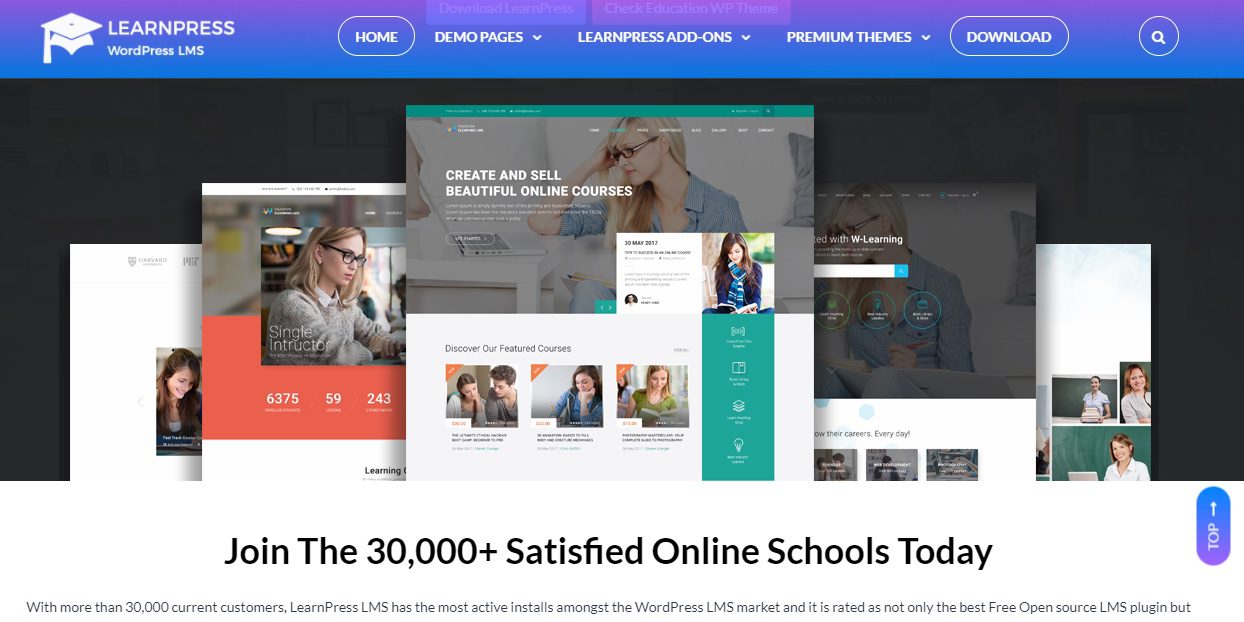 LearnPress is a complete WordPress LMS plugin designed for WordPress. It is among one of the premier alternative plugins to LearnDash you can use to create and sell courses online easily and efficiently. With LearnPress, you can develop your own course modules with lessons and tests that you can manage through a user interface that is easy to use.
This LearnDash alternative allows you to create an online school, an education, or an online course website quickly and easily without prior coding knowledge. Additionally, LearnPress is one of the few free and high-quality plugins. It will undoubtedly come in handy to help you make money online. LearnPress online course plugin is robust and lightweight, with many additional features to extend the core system's functionality.
LearnPress Available Features
Course Creation. The LMS LearnPress plugin has a great menu-driven interface for generating online courses with all the required options. Creating, editing, and maintaining a complete curriculum layout is very easy. You can also use LearnPress to export and import courses to another website.
Themes. This plugin works hand-in-hand with all the available themes in WordPress.
Course Management. You can share, manage, and view statistics such as student numbers and trends in your courses.
Course Selling. LearnPress is free, but you can still sell your courses using many supported billing methods like WooCommerce, PayPal, Stripe, etc.
Efficient Communication with your students. BuddyPress makes it easier for online educators to communicate with students or lecturers via the WordPress forum. Users can study, make friends and have fun.
Free Services. Students/people should not pay to get education services. LearnPress makes this a reality, available to as many people as possible. It is a tool that allows to create and share courses online.
LifterLMS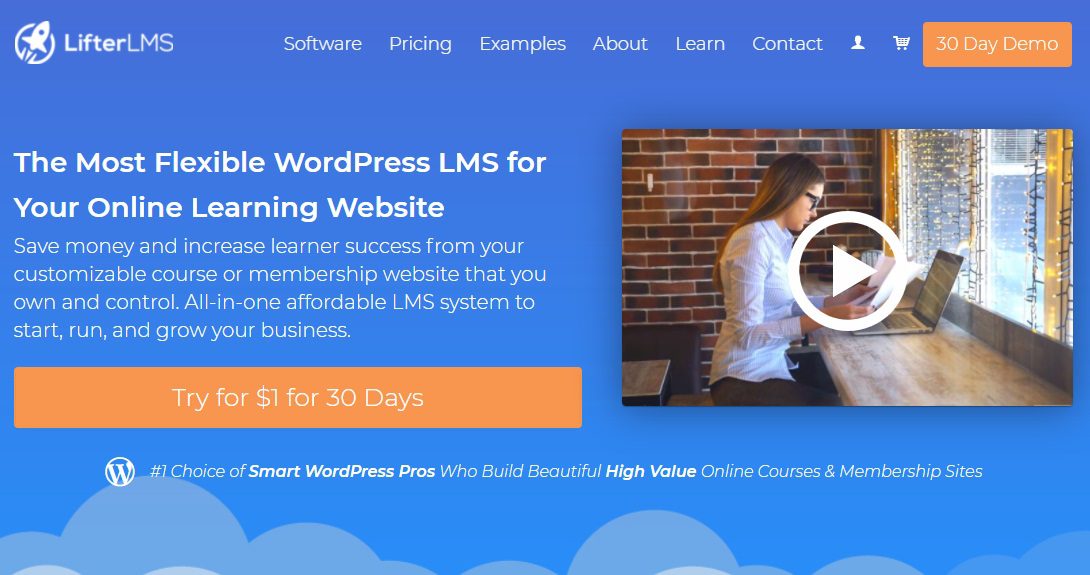 LifterLMS is among LearnDash alternatives outlined to provide a Learning Management System (LMS) that can offer online courses. You can create an online learning portal that works with existing WordPress themes or integrates with new themes. LMS enables teachers to plan and provide learning experiences to learners, enhance the ability to assess the effectiveness of classroom materials, and evaluate student progress.
Learners utilize LMS to sharpen skills and access new knowledge anytime, virtually, anywhere through various channels enabled by technology digitally. Core plugins are free, and you can pay for add-ons for $ 99. LifterLMS consists of a core plugin that is a learning management system.
LifterLMS opens the door to premium added features such as content dripping, payment gateways, paywalls, assignments, among other features. This plugin is also known for having a thriving, well-supported LMS user community through social engagement, active listening, solid documentation, and a course library.LifterLMS invests heavily in support and its industry-leading customer success program as a full-featured LMS solution. LifterLMS doesn't just offer LMS software. LifterLMS builds a community and invests heavily in supporting the LMS site builder community.
What Type of People Use LifterLMS?
Three categories of people utilize LifterLMS. They are:
Builders. These are WordPress designers, developers, and IT professionals creating LMS websites and training portals for employers, customers, and themselves.
Starters. Commonly known as "Do it yourself innovators," these are people who use WordPress LMS to create high-quality online coaching, courses, or education-based membership websites.
Switchers. Finally, these are individuals looking for more performance, control, and better support beyond a hosted LMS platform or an incomplete WordPress LMS stack.
Equating LifterLMS
LifterLMS is a highly flexible, customizable, and scalable plugin. It can be used for simple websites with courses. It also works as a course marketplace or an online school with multiple teachers. In addition, LifterLMS can handle small, low-registration sites for employee training at prominent universities and Fortune 500 companies.
Unlike hosted LMS software, where you pay monthly for access and pay more as your platform grows, LifterLMS no longer charges you per course. It also no longer charges you per teacher or student or based on your sales. As a result, some LifterLMS websites are inherently small in courses and membership registration.
Some of the hundreds of thousands of course registrations are quite large. The largest website is known to have 734,415-course enrollments. Whether you stay big or small, LifterLMS can be customized to fit your needs for your online course, membership page, training portal, or distance schooling.
The WP Courseware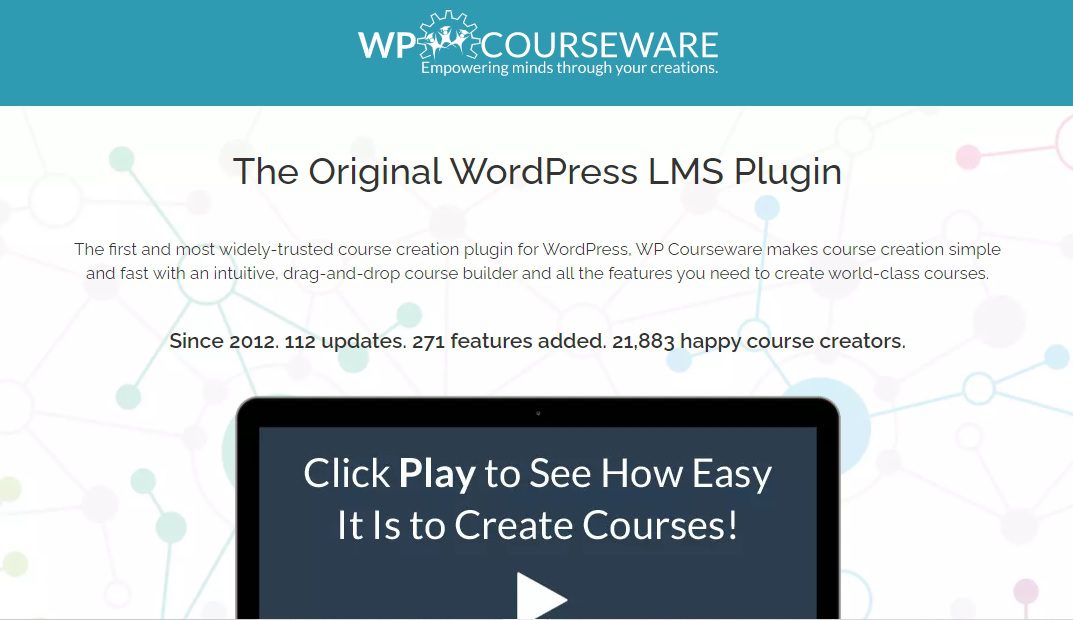 WP Courseware is a well-known management system for learning. It is among one of the available LMS alternatives for LearnDash. It incorporates a course builder that operates through drag and drop. Thanks to its reach features such as e-commerce, quizzes, grade books, certificates, notifications, and instructor roles, WP Courseware is one of the LearnDash alternatives that is user-friendly and robust.
WP Courseware contains all the features you need to create an online course. And best of all, you have the freedom to price and schedule courses and manage who can view a particular course. Over 20,000 trainers can use WP Courseware to reach out to their students, and anyone can prove their effectiveness.
WP Courseware Benefits and Features
Numerous Quiz Options. An easy way to get users to measure their comprehension of a topic is to use a trivia quiz. WP Courseware is among the LMS alternatives for LearnDash. It offers powerful quiz options such as open, multi-select, true/false, or the option to upload a file. You can also reuse the question, use the quiz results to determine who will reach the next module, and limit the number of iterations a user can perform. Also, you have the option to export student quiz results and progress reports.
An Easy to Use Course Builder. WP Courseware comes with a drag-and-drop course builder, making it easy to generate classes. You don't have to be a coding expert to quickly create modules and units. Some standard fields already exist, so you have to enter the data. You can also customize the learning platform to suit your brand.
User Friendliness. WP Courseware also helps build an e-learning platform that facilitates student work. For example, you can have a dashboard that contains messages that users may have missed while navigating the site. Here, users can receive notifications informing them that the course is complete. It also has an automatic navigation button.
Drip Feed Function. This plugin also makes it easy for students to control their courses by providing drip feed capabilities. It also makes it easier for users to move from one lesson to another. Students can also qualify before accessing the course.
Sensei LMS
Sensei (formerly codenamed LMS) is among the top five LMS. It helps you create online courses from within WordPress. Its core aim is to capture the core functionality of the learning management plugin without bloating the capabilities that other existing plugins can handle. As a result, teachers, among other individuals who use Sensei, can fully integrate into plugins and themes.
One of the missing parts of the WordPress plugin puzzle was a good learning management plugin. That may sound strange, given that WordPress is also widespread in educational institutions. However, the truth is that it is challenging to create an excellent plugin that is easy to use and has all the features you need on reputable learning management and course tool. Fortunately, Sensei fills in this vacancy.
Sensei's Common Features
Sensei works with your current WordPress theme and doesn't require any changes to the theme files. All you need to do is install the Sensei plugin and start creating course content. You can create lessons and embed content such as videos, as well as create quizzes for your students and require a passing grade to complete the course. This software utilizes WordPress's oEmbed feature to display the embed code. Another important point is that it also has an integrated voice localization system. This means that you can easily offer courses in multiple languages ​​to reach even more learners.
Its User Interface
Creating a course with Sensei is really fun. The user interface is WordPress standard compliant, so you can start creating content right away without having to learn other new methods. Using Sensei is as easy as creating a post or page in WordPress. Course content is created using standard WordPress editing tools.
Kudos goes to the developers of this alternative plugin to LearnDash, who used it to create such a simple user interface. This is especially useful as the person creating the course may not be familiar with WordPress or websites. You can incorporate a different design, for the teacher's template system to create a custom look.
Conclusion
There are many ways to learn, but some are more effective and meaningful than others. Whether you're a teacher trying to improve learning in the classroom or an HR manager developing a long-term resource development plan for your employees, the key to effective learning is the needs of the learner and of the organization. Knowing your goals and the skills of a real teacher.
Understand and bridge the learning tools you are considering. It is possible to use multiple LMS platforms, but we do not recommend it. On the other hand, introducing learning solutions other than LMS (podcasts, mentoring, face-to-face workshops, etc.) can significantly improve learning outcomes. Always choose alternative plugins to LearnDash products and plugins that integrate seamlessly into LMS core tools.
It's Time to Start Building Your Online Course
In the ever-evolving landscape of online education, finding the right tools to facilitate seamless learning experiences is paramount. As you navigate the world of Learning Management Systems (LMS), it's important to consider alternatives that align with your specific needs. In this guide to exploring LearnDash alternatives, we've delved into various options that cater to diverse preferences, making it clear that the perfect LMS solution can be different for everyone.
Among the alternatives mentioned, there's one platform that truly stands out for its brilliance and ease of use – Owwlish. If you're a creator, educator, entrepreneur, or anyone looking to embark on the journey of online course creation, Owwlish offers an exceptional solution. Unlike traditional approaches, Owwlish empowers you to effortlessly integrate online courses into your existing website, regardless of the platform. The simplicity of course creation using its intuitive builder is second to none. With a few clicks, you can transform your website into an interactive learning hub, connecting learners with valuable content and experiences.
In conclusion, while there are various LearnDash alternatives available, Owwlish shines as a brilliantly easy-to-use online course platform for creators of all types. If you're seeking a hassle-free solution to share your expertise, educate, and engage learners, look no further. Owwlish empowers you to take your content to the digital realm without the complexities that often accompany e-learning platform development. Elevate your online course creation experience – explore Owwlish today and discover how simplicity and efficiency can transform your educational endeavors.
Related Article: