CREATE AND ADD ONLINE COURSE TO WEBFLOW
Step 1: Integrate Owwlish with Webflow by Adding the Base Script
Log in to Owwlish, then go to Settings and click Integrate. Choose Webflow from the platforms provided.
Go to the Owwlish app, then select the settings menu and click integrate. After that, you can then now select a platform, and choose Webflow.
In the popup, enter a nickname for your website (anything you want) and enter the URL of your Webflow site. Next, click the Create button.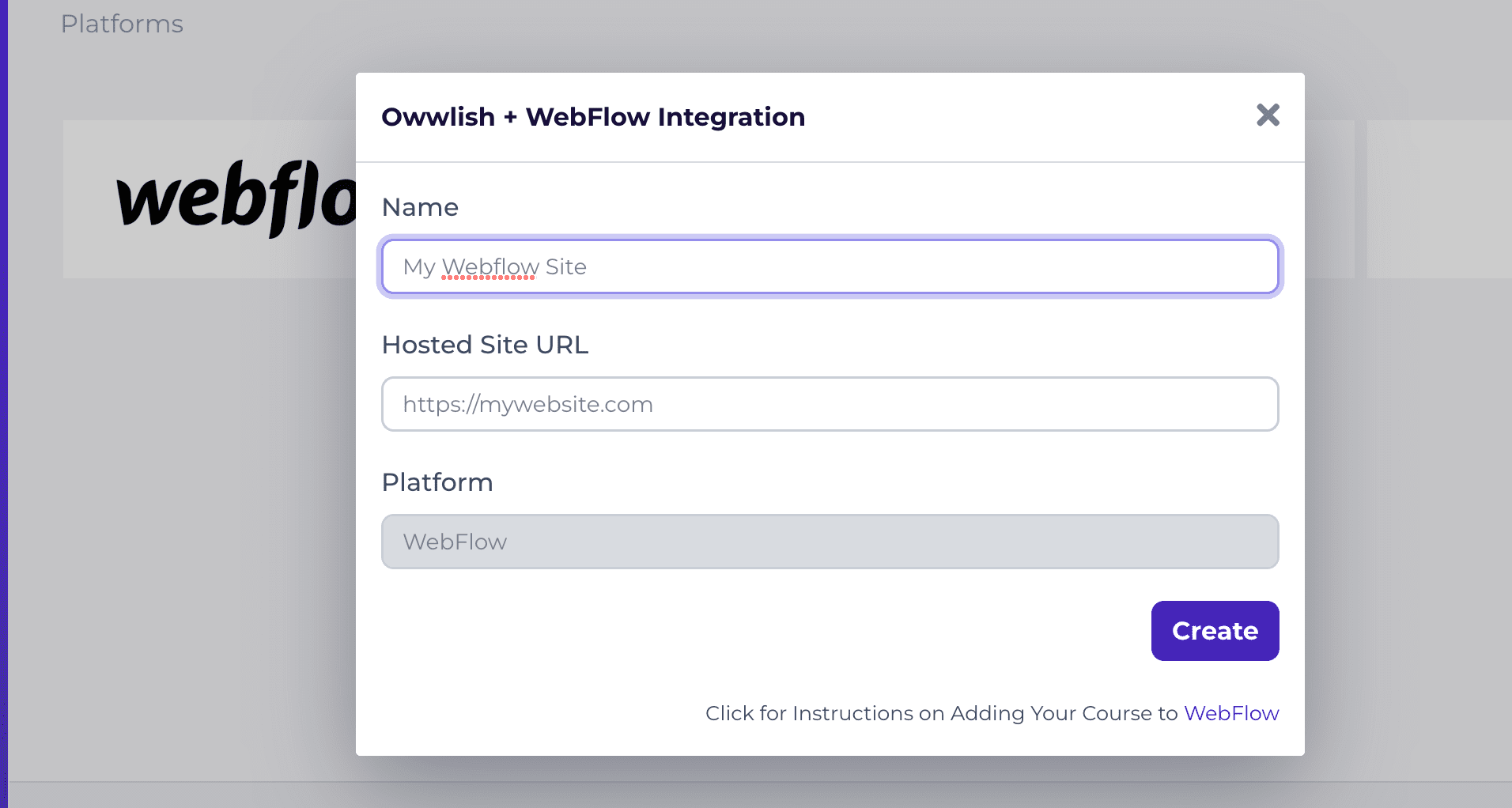 You'll be taken to the Connected Sites page (also accessible in the Settings menu). Click the top row under the column Client ID, which should be a long string of random numbers.
In the popup, copy the entire code from the box which you'll soon be pasting into your Webflow site editor:
Login to your Webflow site builder, locate the pages tab in the left-hand toolbar, create a new page and name it the name of your course.
Add Online Course to Webflow by Pasting the Specific Course Script

It's now time to add the specific online course script to Webflow:
In the Webflow site editor, first drag and drop a container element onto your page first, as this allows you to set the margin as well as to center your course.
Drag and drop an embed element onto your page by dragging it from the Add Elements tab. Now click on the embed element to open an html box.Paste your Owwlish course embed code into the html box settings for your embed element, then click the Save and Close button on the bottom right.
Step 2: Publish Your Course Page
Additional Tips for You!
It's Time to Start Building Your Online Course
In the realm of modern web design and eLearning, the possibilities are boundless, and the fusion of platforms like Owwlish and Webflow is a testament to the creative potential of technology. By seamlessly integrating Owwlish courses into your Webflow site, you're not only embracing the power of a no-code web design tool but also empowering yourself to become an online educator. The journey from crafting your courses on Owwlish to effortlessly embedding them into your Webflow site is a testament to the future of education and online presence. With Owwlish's user-friendly integration and Webflow's design finesse, you're not just adding online courses – you're crafting a dynamic learning experience that's as visually captivating as it is intellectually enriching.
Don't hesitate to explore the world of Owwlish and Webflow – a dynamic duo that lets you wield your creative prowess in both design and education. Start your journey today, and bring your courses to life on the digital canvas with the perfect blend of form and function. Your potential as an educator and designer awaits, and Owwlish and Webflow are your trusted companions on this innovative voyage.