A learning management system (LMS) is a tool that provides a framework you can use to administrate, document, track, report, and deliver learning materials, training content, or earning programs. A learning management system commonly referred to as LMS has other names, like the learning experience platform (LXP).
Individuals often confuse LMS with learning content management systems (LCMS). However, they are different software that complements each other. Individuals use LCMS to create and manage educational content. LMS use has increased in the past few years, particularly during the covid-19 pandemic, emphasizing remote learning.
LMS uses analytical data to identify gaps in the online learning content. Although the software focuses on the delivery of e-learning, they also support other uses as a platform for synchronous and asynchronous online content.
Additionally, an LMS is ideal for higher education institutions as it allows educators to manage their classes. With LMS, individuals in charge of training and teaching can identify and assess individual and company learning goals, track the process to ensure it meets the goals set, and collect and present data to direct online learning.
What's more, is this modern LMS is integrated with intelligent algorithms. This is to recommend courses to users based on their skill profiles automatically. The algorithms can also extract metadata from educational materials to make recommendations. In addition to delivering learning content, an LMS can also analyze onboarding, compliance, and skill gap.
Benefits of Learning Management System
An LMS offers a wide range of benefits, including:
Saves Costs
Training through an LMS eliminates the need for employees to travel, optimizes training expenses, and reduces instructors' pay. All these reduce the overall learning costs.
Consistency
LMS training and teaching are centralized, hence allowing for consistency. In addition, the software supplies a single source for course materials and content teaching for all students and workers.
Easy Tracking
LMS allows online educators to generate individual training reports quickly. Utilizing LMS for remote learning enables instructors to track students' goal progress, the knowledge they have gained, and more.
Regulatory Compliance
Many industries, including oil and gas, building and construction, and pharmaceuticals, train, assess, and report employees to comply with industrial standards. LMS helps such industries satisfy regulatory requirements.
Factors that Affect Course Revenue
According to a recent study, online courses are as effective as traditional teaching. In recent years, online learning has seen tremendous growth, making creating and selling online courses boom internationally. Online courses are profitable and offer one of the best business models for entrepreneurs.
With the rising demand for courses, more and more people, old and young, are willing to learn new skills via online platforms. Online courses help to fill the gaps in existing knowledge. Most individuals prefer to learn in the comfort of their homes and avoid the complexities of traveling to attend physical classes. Several factors affect your revenue:
Course Price
Depending on how much you sell your course, you will know the number of people you need to sell your courses to attain your revenue goals.
Target Audience
You need to have a bigger audience to make more money with online courses. You should have an email list, social media followers, and youtube subscribers to create an extensive network and have more customers for your online course business.
Marketing
If you have ever done marketing before and sold products, you will have an advantage over newbies. Sales experience enables you to convert leads to customers for your online courses.
Customer Loyalty
If your customers are loyal and always coming back for your courses, you will likely get more income from your business.
Background
WordPress is a flexible and versatile content management system with various tools and plugins to simplify your content creation process. WordPress provides developers with many opportunities to generate income online by helping them to create business and e-commerce websites, podcasts, and forums.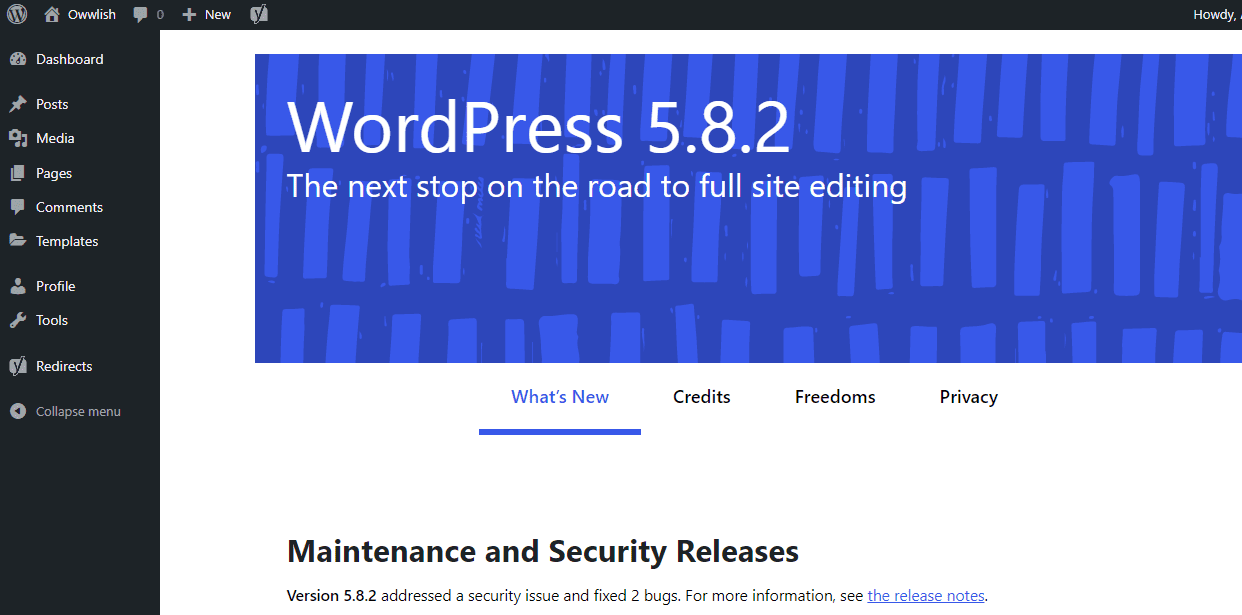 However, many people have not thought of using WordPress as a learning management system. If you have never thought of using the software as an online learning tool, it is high time you do so. With the coronavirus pandemic causing the closure of schools, educators and companies are looking for ways to enhance remote learning.
Moreover, online learning has many advantages, including reduced learning costs and better time management. In addition, technology companies are also adopting LMS as a tool to promote a robust learning environment in the workplace. While the market is full of online learning platforms, you can utilize the right tools and plugins in your WordPress site to develop a learning management system that allows you to sell online courses and earn money.
Why Create Your Online Course In WordPress?
E-learning is the future of learning. Almost all countries have widely accepted online learning, presenting a perfect opportunity to create and sell online courses in your niche. Software companies are also developing tools to help online entrepreneurs to launch successful online courses with ease. You can start an online course business with a bit of investment as long as you are an expert in the field.
When creating an LMS with WordPress, you may need to use specific themes for your website. The themes and plugins will save you a lot of effort and time while setting up your website. Plus, they will enhance your marketing efforts with time.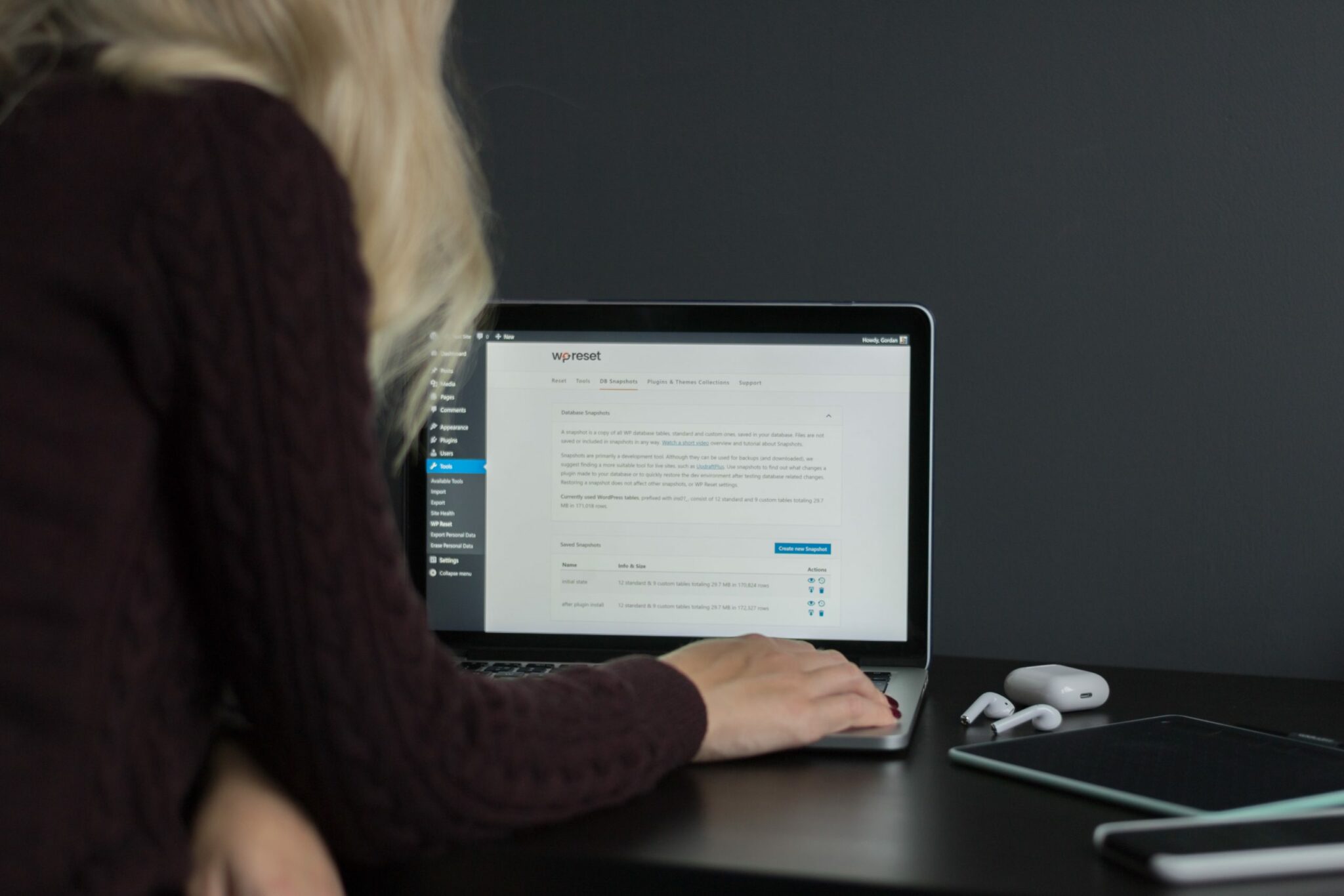 Pros of Using WordPress as a Platform For Online Courses
Knowing the benefits of using WordPress to develop an online learning site if you wish to start an e-learning website is essential. The pros of using WordPress are below.
Easy-to-Use Admin Panel
WordPress has an easy-to-use administration panel, unlike other systems that need an expert to manage the online learning system. Unfortunately, most institutions and companies have a tight budget that cannot hire web admins to manage and update websites.
SEO Friendly
SEO optimization is not a one-day job as it requires a lot of expertise and time. You need to optimize your website frequently, following SEO guidelines to ensure high conversation rates, better visibility, and traffic. Unlike other content management systems, WordPress comes with SEO features. In addition, WordPress can use third-party plugins that will allow you to add meta titles, site names, and descriptions to your digital learning platform easily.
Many Customization Options
You need to have a unique and innovative e-learning website than your competitors to attract learners from diverse educational backgrounds. WordPress has many optimization options that enable you to personalize your e-learning web designs to meet your needs. In addition, WordPress has a variety of themes and plugins that you can use to customize your courses and enhance your website's functionality.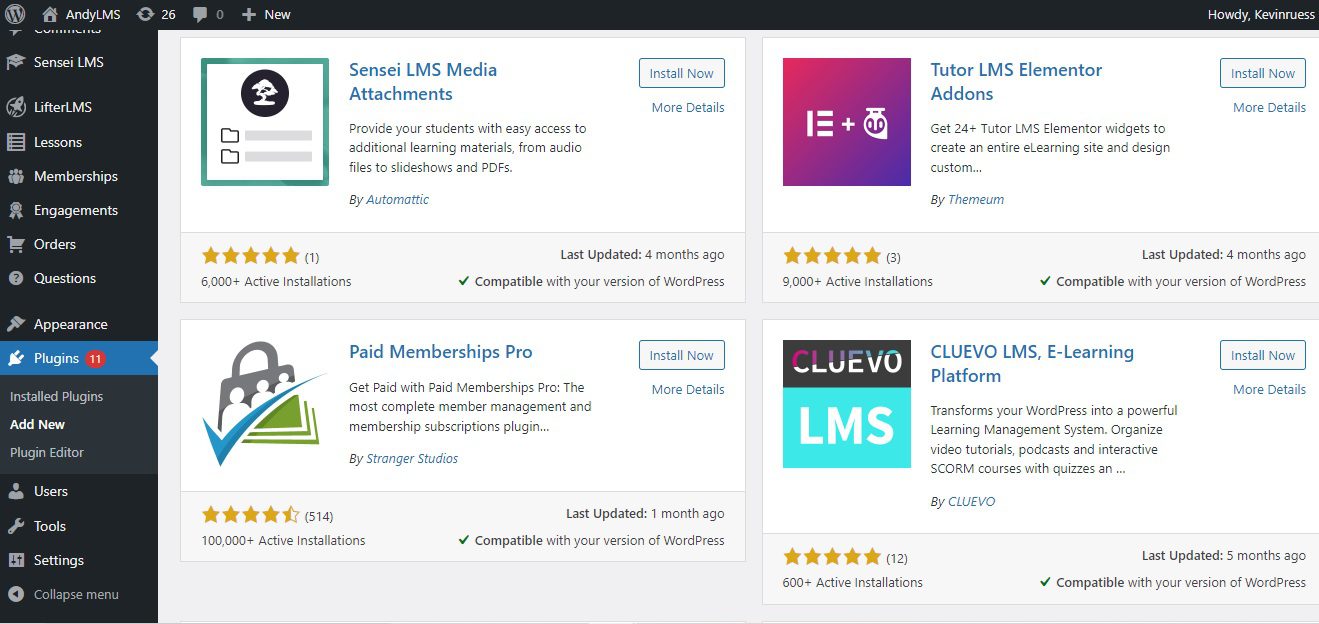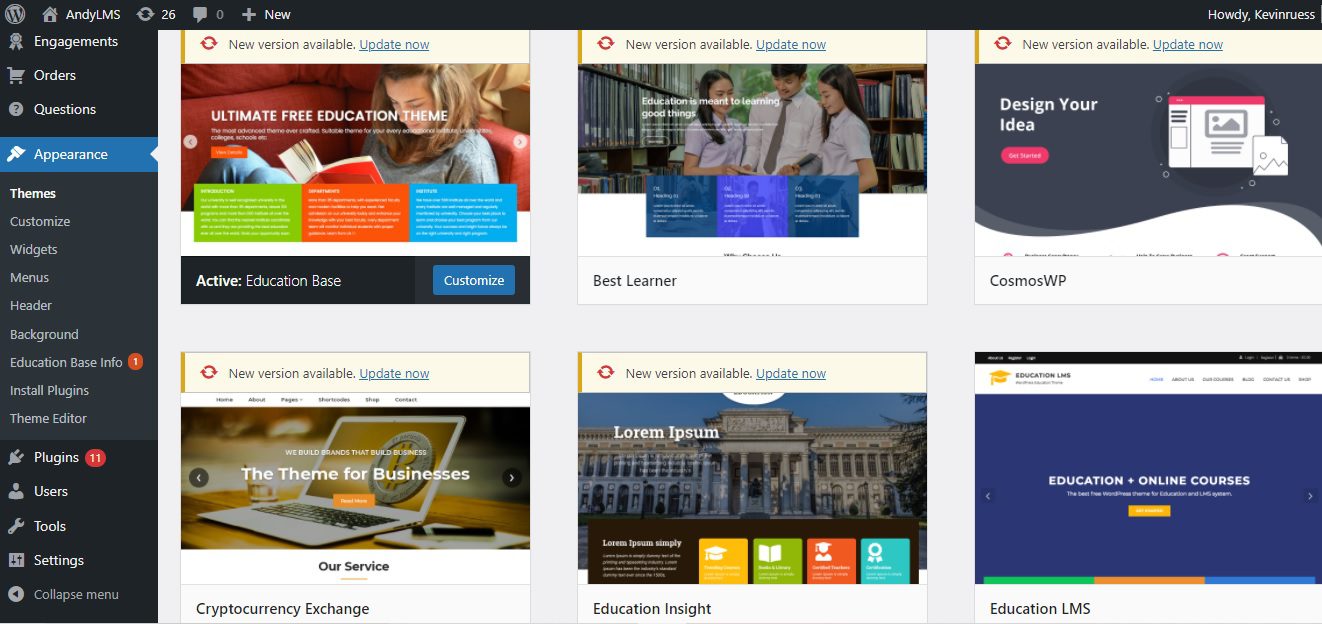 Business Generating Source
With WordPress, you can easily create and upload learning materials and content, sell digital products and online courses, and register students to attend classes. Additionally, plugins in WordPress can help you generate income from your online courses.
Cons of Using WordPress as a Platform for Online Courses
Despite its advantages as a site for e-learning, WordPress also has downsides. All websites are not equal; some may experience technical difficulties requiring you to hire a management agency. Here are the disadvantages of WordPress websites:
Requires Many Plugins for Additional Features
When you buy website design templates, you will get a fully designed web page. This is where you will need to upload your content and materials. However, if you need the site to have additional features, you will need to search for various WordPress plugins. Some plugins are free, while others come with a fee.
Frequent Theme and Plugin Updates
The world is digital, and experts constantly change things to improve user experience. If you use WordPress as your online learning platform, you will have to check the dashboard to see if the plugins and theme need updating. It is easy to miss the updates, especially if you have other projects to handle. Moreover, with technological advancements, errors can occur, and your site may crash or have your links broken.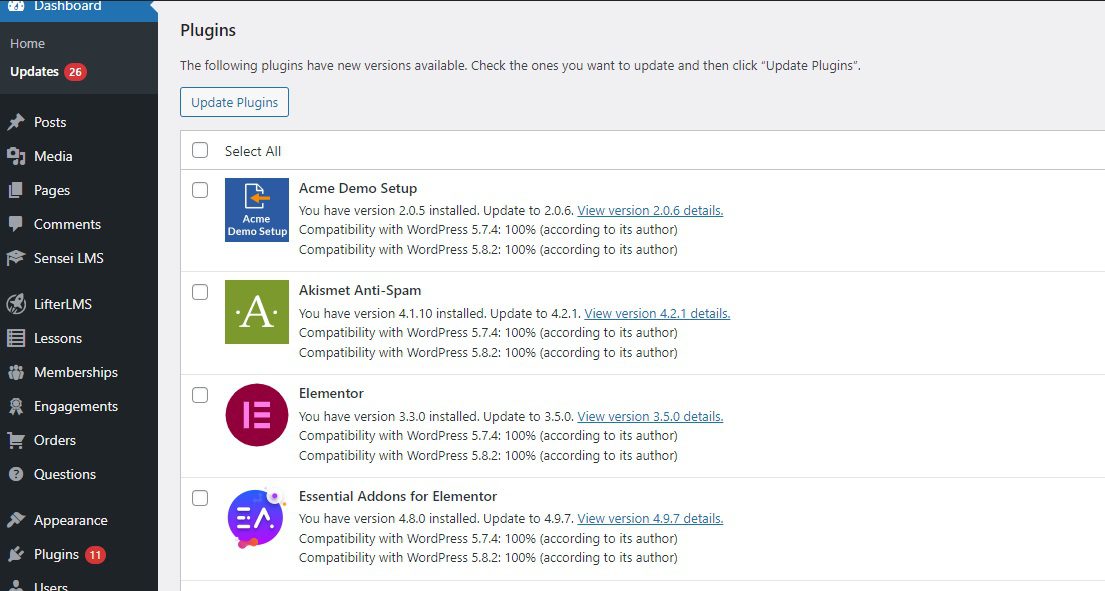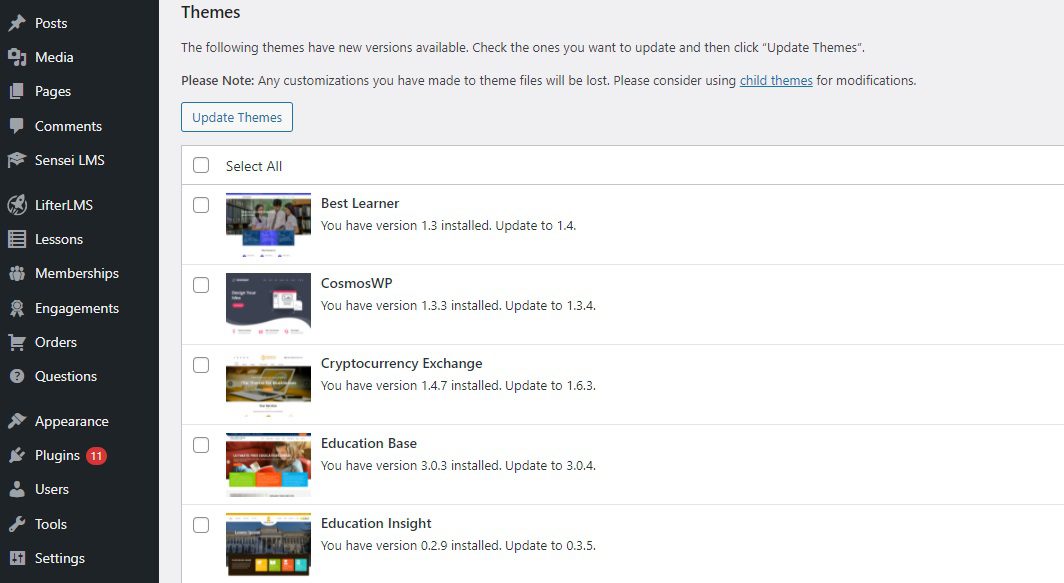 Slow Page Speed
WordPress has tons of plugins and oversaturated code and databases that slow its performance. In addition to the plugins and databases, large images, much wording, and unreliable hosting can slow down your WordPress website.
You need to consider your page speed as your clients will want a site that downloads materials faster. Slow speed may make learners impatient and leave your site without viewing curses. Consequently, you will lose business since they will not see what you offer.
Poor SEO Ranking
WordPress has limited SEO optimizing features that cannot help you rank in Google. In addition, the site has a few keywords that will not impact your search rankings.
How to Use WordPress as an LMS
WordPress can help build all kinds of websites, including remote learning platforms. You can apply the proper tools and plugins to transform WordPress into a learning management system that allows you to offer classes and earn money. Most WordPress plugins are incredible, and they can help you create online courses that meet the individual needs of your students.
As discussed earlier, WordPress software enables you to develop and manage online content. On the other hand, LMS helps you create online courses and manage your learners' lessons. The best LMS tool will allow your audience to sign in for specific classes and let you quickly track and evaluate student progress. Further, it provides online teachers with a tool to publish multiple contents.
Creating WordPress as an LMS requires WordPress LMS plugins. Here are the steps to help you build an online course website in WordPress:
Step 1: Decide on Your LMS Focus
You are at a great start if you already know the topics you want in your online lessons. But you also need to decide the overall goal of your online course. For example, do you want to offer free classes, or do you want to charge learners a fee?
Online learning is becoming a lucrative industry; therefore, it is easy to monetize your lessons. Creating an LMS with WordPress introduces you to various monetization options. However, you can go for both options, like offering some free courses while making others private. Doing so will make learners taste some of your lessons and eventually unlock the private classes.
Step 2: Planning out a Structure for Your WordPress as LMS
Once you know the focus of your site, you should decide on the number of pages and the courses you will publish. Then, make sure your website's structure is simple by including only the necessary sections and information to make it easier to implement the e-learning system.
Step 3: Set up a WordPress LMS Solution
When it comes to using WordPress as LMS, there are a variety of plugins. Your plugin choice will determine the features you will enjoy, so it is crucial to select wisely. Many of them enable you to schedule content and offer user rewards and private courses. In addition, these tools often integrate with other tools to allow you access to advanced functionality. Once you have chosen your WordPress solution, you can create your first class.
Owwlish: Our Product
In Owwlish, we offer several benefits, including a beginner-friendly interface and so much convenience. This LMS solution is trying to shoot for really shortening that web-development time. For example, connecting your WordPress site to your Owwlish account is super simple. They have made it just a few clicks away and will let the users build that online course website within just a few hours and have it run on WordPress right away. In addition, creators can make an aesthetically pleasing course site without all the hassles and complexity of configuration, coding, and other back-end procedures.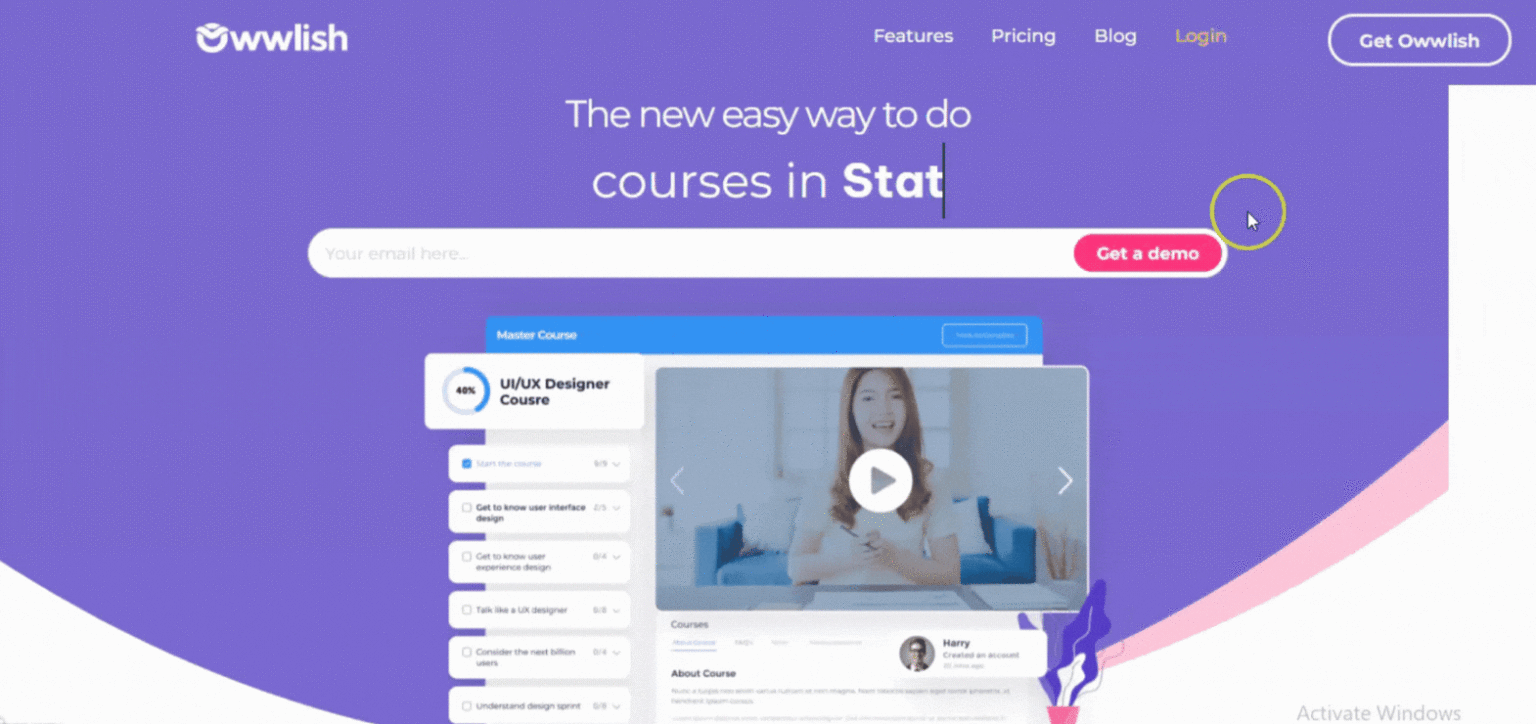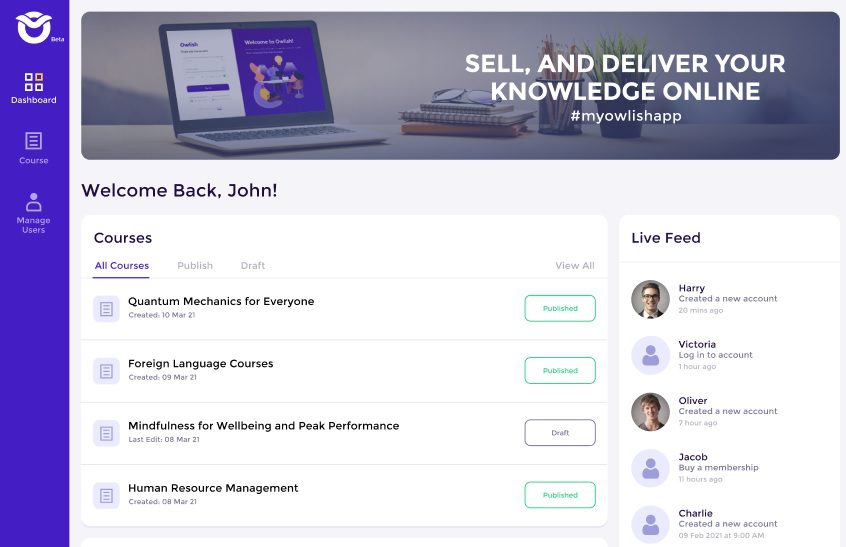 Uploading video lessons is very quick and easy. All the hassle of uploading your videos to other sites just to stick it back in is gone in Owwlish. All you have to do is click upload, choose a file, or better yet, drag the file on the upload box and wait for it to complete. A huge bonus would be Owwlish's optimized video resolutions, where you and your students will be able to enjoy video lessons in high definition.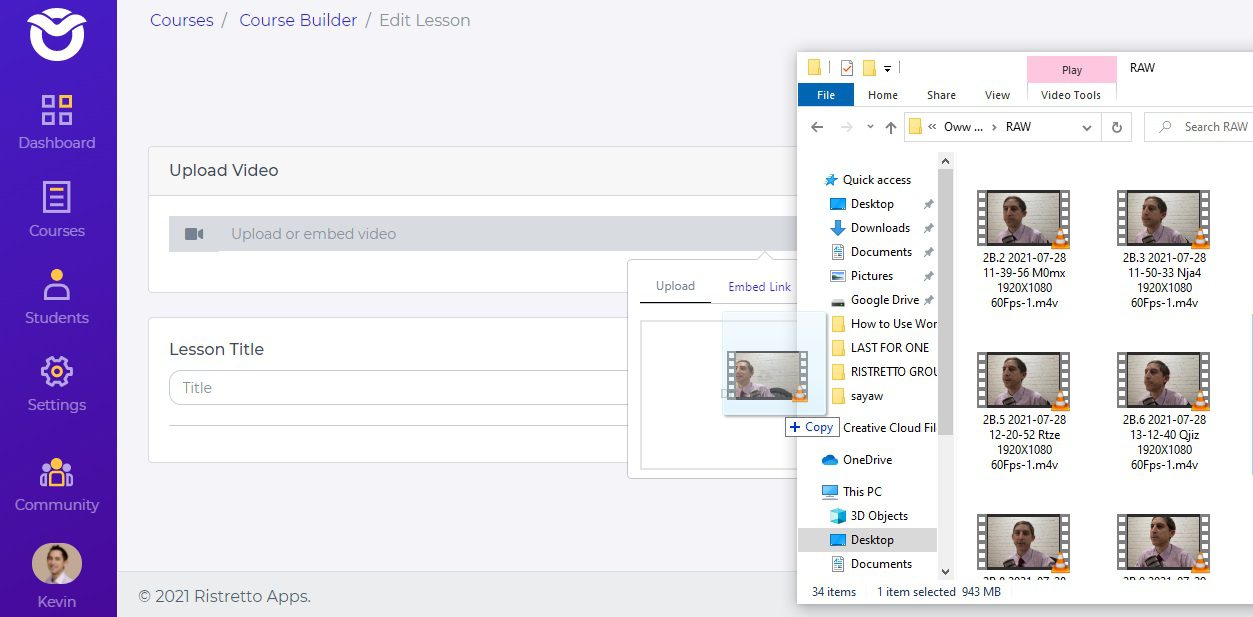 Owwlish is a reliable tool that will help you get started with creating and selling online courses. So check it out to enjoy the beauty, convenience, ease, and other benefits that you will not find with other content management systems.
Conclusion
WordPress has been around for decades and has been used to create different websites. Online classrooms are gaining popularity, and their market is expanding every day; the online course business will continue to rise in the coming years. WordPress has numerous plugins and themes to help you develop an e-learning website you have always dreamt of. Creating an online course website in WordPress is easier than you might have imagined, and you will enjoy exceptional features. To conclude, you should also consider Owwlish because of the convenience and ease of use that will impress you and your students. If you have any questions, comments, or reactions, feel free to talk to us in the comments below. And while you're at it, might as well tell us what other topics you'd want us to discuss next time.