Welcome to Owwlish, where education meets innovation! 🚀 We're incredibly thrilled to introduce our latest game-changing feature: Learner Tracking. At Owwlish, we understand the pivotal role online educators play in shaping the future. We recognize the dedication you pour into creating enriching courses, and now, we're excited to unveil a tool that takes your teaching experience to the next level.
What is Learner Tracking and Why It Matters? 🎓
Owwlish's online course student tracking system lets your track the overall performance of your e-learners! – helping you identify struggling students early on, and improve the overall quality of your online course!
Learner Tracking isn't just another feature; it's your window into the virtual classroom. Imagine having a personalized dashboard that provides real-time insights into your students' progress. With Learner Tracking, you can do just that! This innovative tool is designed to revolutionize the way you manage your online courses. By allowing you to track learner progress effortlessly, it empowers you to enhance the learning experience for every student.
How Does Learner Tracking Work? 🕵️
Dive into the heart of your online classroom with just a few clicks. Here's how it works:
Step 1: Navigate to the "Learners" menu on your dashboard.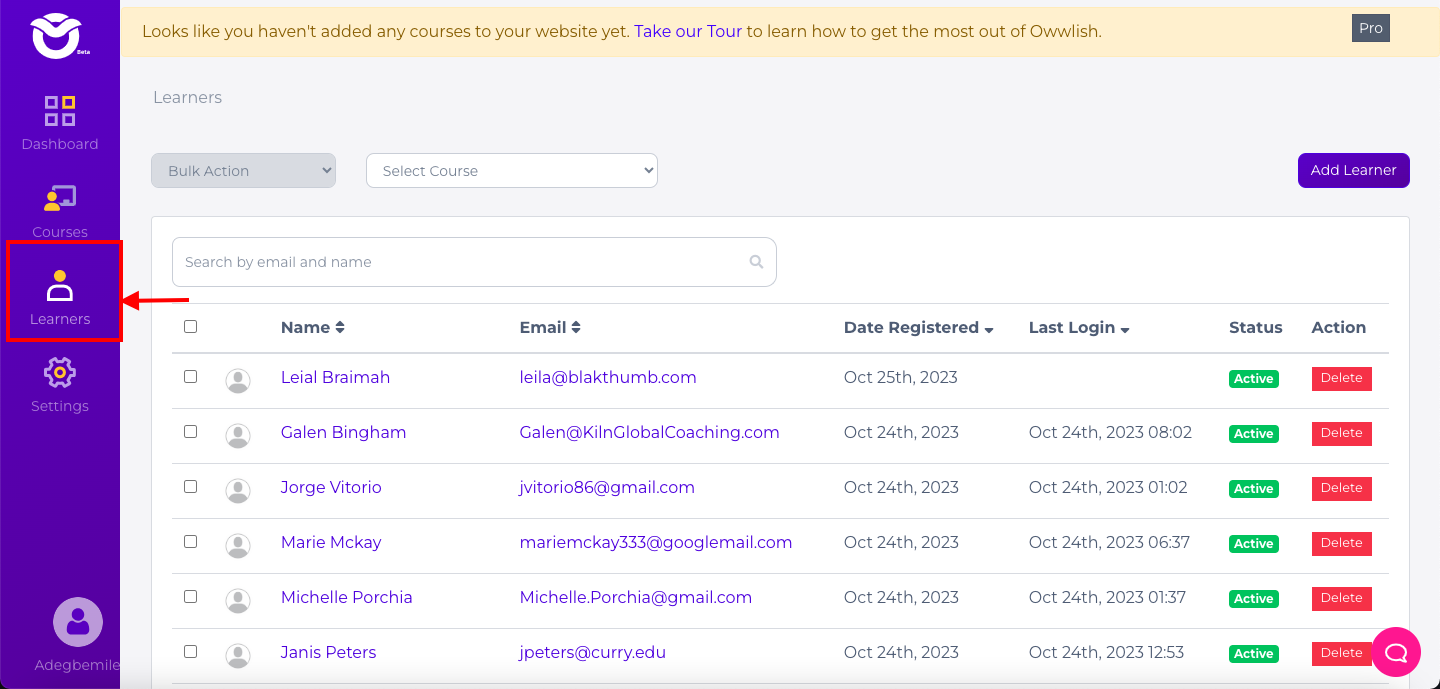 Step 2: Click on a specific learner to delve into their world of learning.
Step 3: Visit the "Activity" tab, where you'll find comprehensive reports detailing the lessons completed, time, and video progress.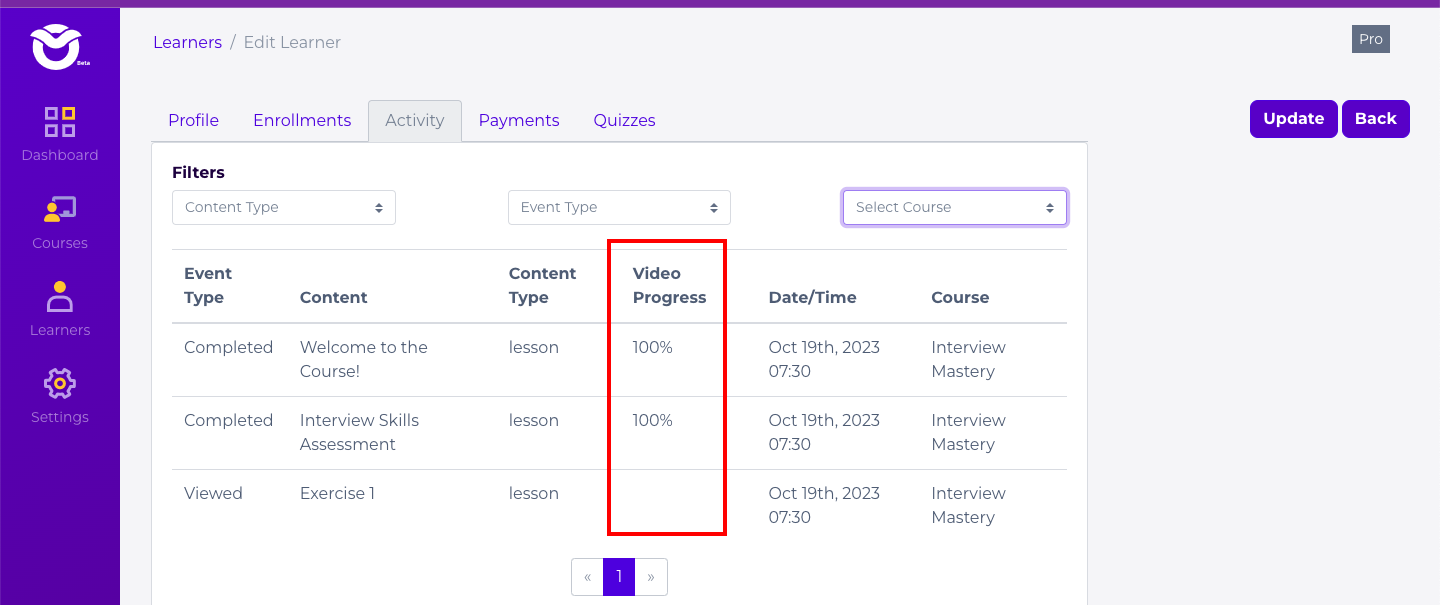 It's that simple! With an intuitive interface, Owwlish's Learner Tracking feature allows you to monitor your learners' activity effortlessly. Whether you have ten students or a thousand, staying updated on their progress has never been this easy.
Why Learner Tracking is a Game-Changer? 🚀
Personalized Learning Paths:
Tailor your teaching approach based on individual progress. Identify learners who might need extra attention and provide targeted support to ensure no one is left behind.
Engage with your students on a deeper level by understanding their learning habits. Recognize what excites them, which lessons they find challenging, and adapt your content accordingly.
Learner Tracking enables you to identify struggling students early in their learning journey. Reach out to them proactively, offering the support they need to succeed.
Make informed decisions backed by data. Analyze learner behavior, identify popular lessons, and refine your teaching methods based on what resonates most with your audience.
By understanding how students interact with your content, you can enhance the quality of your courses. Identify areas of improvement and refine your curriculum for a truly enriching learning experience.
Experience the Future of Online Education! 🌐
At Owwlish, we're not just providing a platform; we're fostering an educational revolution. With Learner Tracking, you have the power to create a dynamic, engaging, and responsive learning environment. Whether you're a seasoned educator or just starting your online teaching journey, this feature is your key to unlocking the full potential of your courses.
How Owwlish Learner Tracking Benefits You:
Streamlined Progress Monitoring:
Effortlessly track the progress of each learner, ensuring they are on the right learning path.
Time-Efficient Reporting:
Generate detailed reports with a click, saving you valuable time and effort.
Supportive Learning Environment:
Create a supportive atmosphere where students feel seen, valued, and guided throughout their learning journey.
Leverage real-time insights to refine your teaching methods and provide a more impactful educational experience.
Witness your students thrive as they receive the personalized attention they deserve, leading to higher course completion rates and overall satisfaction.
Ready to Transform Your Teaching Experience? Try Learner Tracking Today!
Embark on a transformative journey with Owwlish's Learner Tracking feature. Elevate your teaching, empower your students, and shape the future of online education. To get started, simply log into your Owwlish account, explore the "Learners" menu, and experience the power of data-driven teaching like never before!
At Owwlish, we're dedicated to empowering educators and learners alike. Our commitment to excellence drives us to innovate continually, ensuring you have access to the best tools for your teaching endeavors. Join us in reshaping the landscape of online education with Learner Tracking – because every learner's journey deserves to be extraordinary!
Ready to Transform Your Online Classroom? Unlock the Power of Learner Tracking – Only on Owwlish!
Sign Up for a Free Trial Today and Redefine Your Teaching Experience! 🎉
Note: Learner Tracking is available for all Owwlish users, offering a seamless way to monitor and enhance your online teaching journey.